India's rural healthcare strategy needs a fresh dose and Internet of Things (IoT)-based approach can deliver the much-needed booster shot to those living in the remote areas.
In a country with over 130 crore population, there are over 10 lakh doctors and physicians – and nearly 80 per cent of those are currently serving the urban population.
In other words, "almost 75 percent of dispensaries, 60 percent of hospitals and 80 percent of doctors are located in urban areas, serving only 28 percent of India", according to a report by KPMG and the Organization of Pharmaceutical Producers of India (OPPI).
On top of these dismal numbers, India also has the lowest number of physicians per 10,000 people among Brazil, Russia, India and China (BRIC) countries.
There is no doubt that the country's rural healthcare strategy needs a holistic approach and in such a scenario, disruptive technologies like Cloud-enabled Internet of Things (IoT) – with its patient-first approach – has the potential to transform the rural healthcare in the country.
How can IoT deliver the much- needed booster shot to people living in the far-flung areas and hinterlands of the country?
Imagine rural folks sitting in front of an Internet-connected screen, listening to a doctor sitting in a Metro hospital who, basis on their heart test results, gives them sane advice to either go for specialty tests or resort to prescribed medicines easily found in the vicinity; or envision a city-based doctor looking at a patient's chest X-ray and decides on the next course of action – all via connected network of IoT devices.
The benefits of IoT are multifold – in providing telemedicine, personalized healthcare, video-based consultations and future wellness strategies – without the patient leaving the village sans emergency.
The IoT infrastructure needs is reliable internet, low-cost IoT devices, security and data analytics and India is slowly picking up on these fronts.
Thanks to the 4G revolution, better Internet connectivity has reached most of the parts in the country, helping the stakeholders in the healthcare industry aim for the last-mile connectivity.
As far as low-cost devices are concerned, several IoT health start-ups have now come to the fore, and are set to change the course of the healthcare industry.
Since IoT is a concept of devices talking to one another, there is a lot of data transfer happening.
To make sense of the data, Artificial Intelligence (AI) and Machine Learning (ML)-capable solutions are already here which – with the agility, scalability and security of cloud – can give predictive analysis of a patient's data in a jiffy to the doctor.
India's IoT market size is expected to expand to $9 billion by 2020, according to market research firm Deloitte, and healthcare sector is going to be the main beneficiary.
In a country like India, building state- of-the-art hospitals at every nook and corner is a daunting task. Telemedicine, where patients sitting in remote areas are brought face-to-face to a city doctor via a laptop is the best option.
Therefore, a heart patient can begin talking to a specialist working in a super- specialty hospital in New Delhi, discuss reports, and together work towards whether the patient needs to visit a nearby District Hospital for further check-ups and come to the Capital for advance check-ups or medical procedures.
Once back after a medical procedure or a surgery, the rural patient need not go back again for follow-ups.
Now bring low-cost IoT devices into the picture and the data that is being generated, goes in the Cloud and reaches the doctor faster. This helps the specialist better understand the case and build an online repository of research for future references. The process of well-documented research has today made telemedicine very efficient.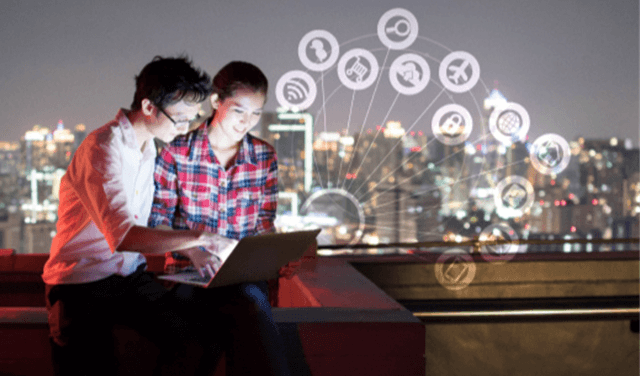 In rural India, nearly 37 per cent of people have access to In-Patient Department (IPD) facilities within a 5-km distance and only 68 per cent have access to an Out-Patient Department (OPD).
Most patients in rural areas do not have access to specialists. Thus, several big hospital chains are offering remote consulting services in rural villages using IoT network capabilities. The doctors can see and interact with patients in remote telemedicine centers, with the case history and medical data automatically transmitted to the doctor for analysis. With the advent of new technologies, various state governments are now leaning towards IoT.
Take the example of the Telangana Government which is using Microsoft's Cloud-based advanced analytics IoT solution to screen children from birth to 18 years of age for major conditions affecting their health. The data is useful to safeguard rural population. It provides the capability of applying ML and AI to cardio-vascular health records to develop an Indian-specific heart risk score. This data can provide rich insights to doctors on treatment plans and early diagnosis. Such solutions for diagnostics in rural India, with the help from Machine Learning algorithms, can accurately diagnose and predict conditions.
In a paper "IOT in Healthcare: A Study," M Surya Prabha and B Sarojini from Avinashilingam Institute for Home Science and Higher Education for Women University in Coimbatore mention that IoT devices are being used in many hospitals for patient care and get their health details in India.
"IoT healthcare system connects all the available resources as a set of connections to perform healthcare activities such as diagnosing, monitoring, and remote surgeries over the Internet," they note. The monitoring of the patients has become possible through the wireless solutions connected through the IoT. These solutions help to securely capture a patient's health data from a variety of sensors, apply complex algorithms to analyze the data and then share it through wireless connectivity with medical professionals who can make appropriate health recommendations. IoT devices also boost patient's confidence and satisfaction by allowing patients to get connected with their doctors virtually.
The concept of IoT, say the researchers, has been comprehensive to cover more type of devices such as Global Positioning System and mobile devices. Smartphones (India has over 450 million smartphone and over 700 million feature phone users) can be used to build an inclusive IoT network.The mobile devices can aid healthcare workers to diagnose, track and control infectious diseases.
There are now apps to help rural population. India's largest online health camp called "myUpchar" recently launched a "Saathi" app. "myUpchar" partners in operating villages along with volunteers and support staff who collect basic details of the patients such as weight, height, blood pressure, glucose, pulse and temperature, and shares those on the app with the doctor.
A recent study published in the journal Nature found that people can make use of apps that employ the phone's camera to interpret test results, and send them to local clinics or healthcare workers before being uploaded to a central online database.
Globally, the healthcare IoT market is expected to reach $72.02 billion by 2021. According to Nutanix, a global leader in cloud software and hyper converged infrastructure solutions, the healthcare organizations need to address a variety of critical IT needs, which include a need for increased security, protection of sensitive patient data and meeting regulatory compliance. From a patient's and clinician's perspective, adopting a cloud model, hybrid or otherwise, also allows for providers to undergo a digital transformation of healthcare delivery.
Infrastructure innovations allow hospitals to manage different appli- cations and data types, take advantage of automation and create new service lines such as telehealth or remote monitoring, thus leading to improved patient engagement. Healthcare companies outpace the averages for certain applications, such as data analytics and Internet of Things (IoT). The fact is that India has always looked to provide a premier healthcare system for its citizens. Thus, investing in the next generation IT and IoT infrastructure is the first step in preserving the current quality of care and bringing healthcare to all.
About the author
Meenakshi Iyer is a New Delhi-based freelance journalist covering health, technology and latest innovations. With more than 15 years of experience, she has worked with top media publications in the country.