InnovatioCuris Foundation of Healthcare & Excellence (ICFHE) and IIT-Delhi jointly hosted a panel discussion on Medical IoT: Future of connected health, as an emerging development area. Below is a journalistic account of discussions and decisions made during the Innovators' club meeting held on Saturday, 2 March 2019.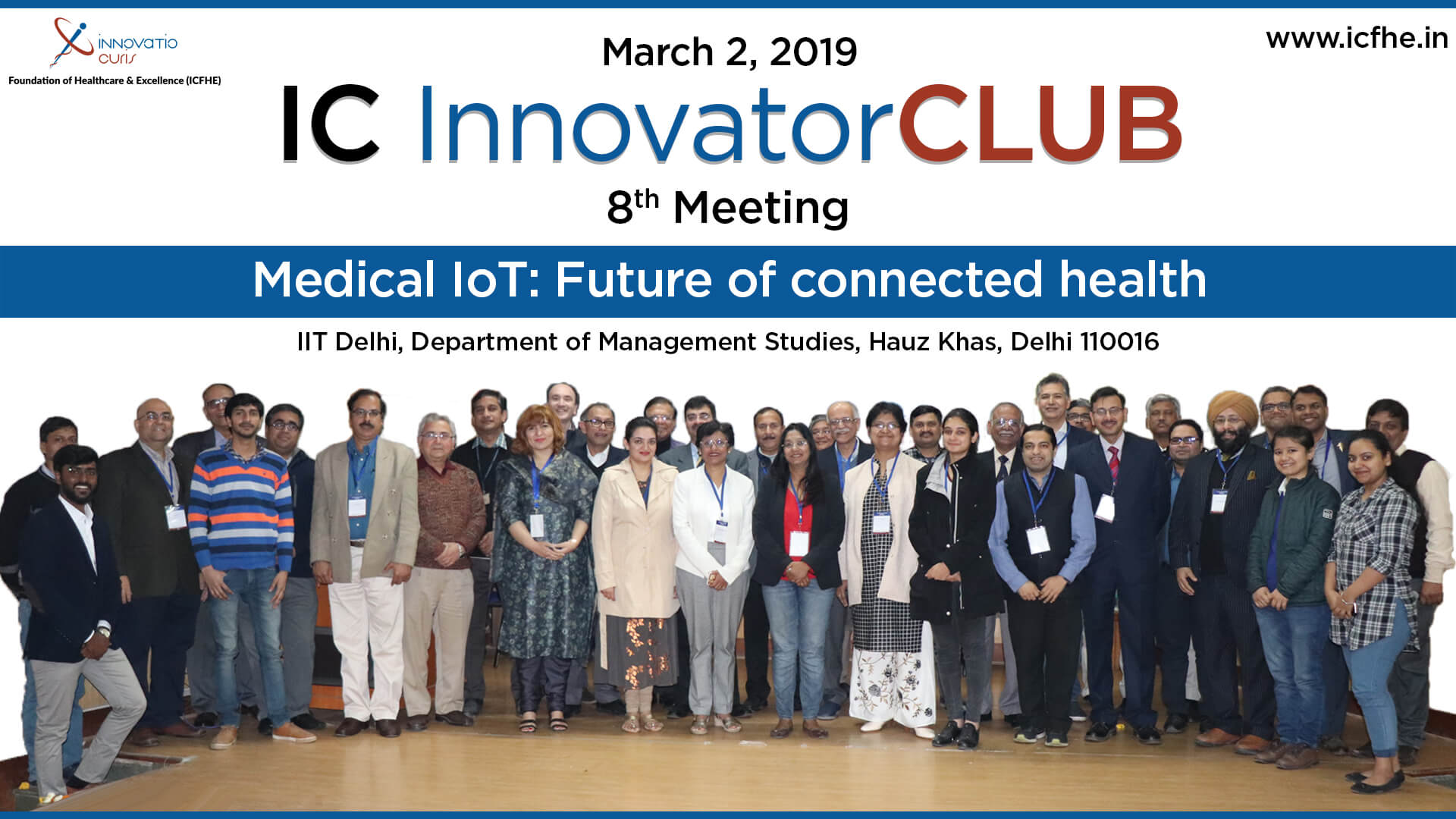 Dr. V K Singh, InnovatioCuris is working towards healthcare disruptions in India to help reduce the healthcare delivery cost. Since the medical space is growing rapidly from 20 million markets to 70 million by 2025, describing a business opportunity for the younger ones and existing players of the Internet of Medical Things (IoMT), insisted on mastering the technology instead of technology mastering us!
Our inaugural speaker Dr. Partha Dey of IBM emphasized the importance of rapidly growing medical space in the next 5 to 7 years (million to billion to trillion) and that the numbers are promising. The question "Is there anything we can do to get our pie of the share from that increasing number?" Connecting internally (institution/hospitals) and with the outer world, there are two aspects. He went on to highlight a concern that connected health should be targeting illness rather than wellness. Illness market would have a better opportunity and that's a fact of life.
Integration of many devices also causes a problem in the implementation of IoT in healthcare. The reasons can be many.One of them is that the medical stakeholders do not have any consensus regarding the consent, generation, storage and transmission of data. But IoT changes the way!
The need to change the way of delivering care/service should be our priority. A paradigm shift in the way of offering services through connected health services and emphasizing that privacy and security concerns are of utmost importance when it comes to connected health. Responsibility and accountability after acquiring data are very important. The question is how to analyze the data and get actionable insight. Analytics and IoT should be considered together for actionable insight. The challenge of interoperability has turned up with an increase in the number of devices being used.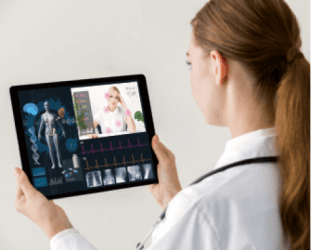 Trends and Opportunities of Medical IoT
IoT or Internet of Things is not new, but it has been gaining traction at a very high pace. Since the inception of the word IoT, there has been an ongoing conversation about how it might change healthcare, improve patient safety, affordability and accessibility for patients.
Healthcare in India has a huge potential in terms of IoMT or medical IoT solutions. There will always be challenges and opportunities in this sector. Connected health is contributing towards the growth in space of IoT, but is lagging behind many other connected sectors.
One of the key challenges in developing the algorithm for medical devices such as CT scans and X-rays. Application of artificial intelligence and machine learning in healthcare should be cautiously done because in case of a CT scan if we miss a module it has life risk and hence should be used carefully and should be a well-validated clinical algorithm.
Since the infant mortality rate in India is twice the rest of the world, and that is certainly alarming as the bottom of the pyramid is affected; there is a company which focuses on the mortality rate of low weight birth babies. They have come up with developing a bracelet which diagnoses hypothermia in low birth weight babies. This was a very simple and innovative device, but then they analyzed the intermissions they can work on and came up with baby cradle. The main challenges to develop and design such a product is to cope with the cost factor and the startups definitely need funds to develop such a technology.
The goal of connected health is not just early identification of health issues, but also effective patient care and safety. Today IoT platforms support integration of medical devices and wearables. The need for security is as important as when it comes to IoT and accessing healthcare data and strengthening advocacy for connected health.
Things change very rapidly and in very small time, and IoT is taking shape with it. But who will fund the cost of development/ Can government help the industry in making such policies?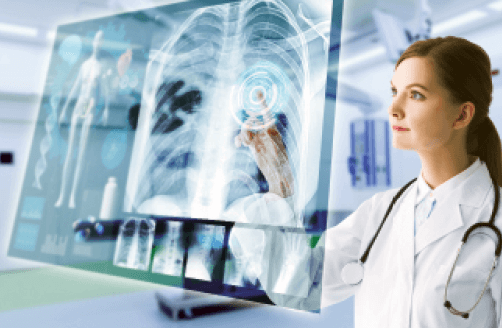 Business Models of Successful IOMT in India and Challenges
The IoT healthcare business strategy is not yet robust because it involves a set of elements with new requirements such as new operational processes and policies, new infrastructure systems, distributed target customers and transformed organizational structures. Therefore, there is a need for a new business model. The IoT technology opens a new dimension of business opportunities for healthcare companies and the IoT platform becomes a key artifact in this transformation. Early movers who are taking a proactive approach to establishing their IoT healthcare ecosystem will tap into new business models. In this part of the business model, the panel discussed the basis of pricing and the way of charging for a product or service. Besides this, the panel also discussed the ways of revenue generation.
While there are many benefits of the Internet of things in healthcare, it isn't without its challenges. As with any new technology in healthcare, hospital and IT executives are concerned about data security and IoT device management. What are the potential barriers to IoT adoption and how healthcare IT can overcome those obstacles?
AI and IoT change the way healthcare is delivered and we obviously are on the cusp of a revolution. This definitely poses a fair amount of concerns but also huge possibilities. The panel also discussed how Medicare is 100th the cost per person when compared to Obama care. So clearly, there must be more innovations coming from IoT and AI; they are going to help us reduce the cost.
In the past, how people tried to use the data for the benefit of both patients and providers, starting from the patient side faced huge failures, as nobody was willing to pay. And that's where the thinking came from that; how do we really make this work? How do we really turn this data into a business model? And that's where they pivoted the model, working with providers and using their data sets. But then the question comes up, "Why the providers would share their data?". Thus, the first pitching that started was to use the provider's data for their patient care. And it didn't work well. The whole narrative was, "What's in it for providers?".Therefore, the business model turned out to be, as we kept on talking to people, we realized that the data is going to be useful for provider's revenue success, and then the same datasets will help the patients. A solution that they projected is to help retain the provider with patients' data, grow their revenues and help in patient care.
The MedTech certainly seems more complex. Where they are trying to come out with a dermatology solution and oral health solution for serious diseases where a cell phone image taken from an off the shelf mobile phone camera is sent to an AI backend and it gives a diagnosis and possible treatment options for a variety of skin diseases, particularly oral cancer. Such cases are very prevalent. What the panelist found is a landscape extremely complex in terms of the business model because when someone comes out with something like this, then figuring out who would it be paying is difficult. And suddenly the AI and IoT thing comes up and say that it can perform this diagnosis at par the level and in certain cases better than certain trained specialists. This does not support their case.
One of the panelists shared her thoughts on important factors to concentrate and realize why health care has not moved digitally as compared to other industries like banking, insurance and how a lot of digital interventions can happen in healthcare. There are a whole lot of opportunities.
The main thing to focus on is What is the problem? What is the solution? And who's going to pay you? Because that's where the panelists believe that lots of startups have a scope.
The customer is one, the doctor is another and hospital, the other spectrum. So how to manage this change and address the change management. If you give a thought on what to overcome, it gives you a kind of value that you try and achieve success and how do we overcome the quality assurance issues, change issues, challenges that one sees in terms of adoption. Let's say for the doctors, it took a hundred years to the doctor to adopt stethoscope. Today, it's widely accepted. IoMT is something that is obviously very innovative, very useful. But then not every doctor will accept it right away. How does one plan to overcome that barrier? So, they might just want one to focus on change management issues.
There are three components of the IT embedment in a hospital. One is the business side of it, which gets adopted immediately. There's just no resistance to it. The second side is the paramedical side of it; it has pathology, radiology, and other such things. They take a little time but they come on board. The learning curve is much shorter over there. The third one is the clinical side, which is the most difficult, as in a hospital system there are doctors who are most resistant to changes and the reason being their upbringing and learning of clinical practices in a certain way.
The question arises "How does one change their practices?" Changed management is already happening at the college level. The medical students who are coming out now are more hands-on and are accepting the new technological changes. We will have to wait a little while, but they will accept it. When we talk about a change in the management, the problem that arises is not specific to India only. In the USA, George Bush had said that he wanted EMR to be adopted by everyone within the next ten years. Surprisingly, he didn't even get 15% conversion in those ten years.
It is important to secure the data and look over the cost implications of data security issues in connected health work moving forward. There is a need for appropriate interventions at the transition level of doctors and patients, as well as the importance of advocacy and awareness‐raising at community level about connected health. There is also a need for financial support for encouraging the tech enthusiasts of the country to address health issues in India with connected health solutions. One needs to understand customer value as well. How do we speak the right language in terms of what would appeal to that particular user or customer or doctor or hospital for that matter only then we will see more IoMT adoption happening. Yes, there is a need to understand the regulatory framework. Startups needs to adopt a lean structure in collaboration with the medical partners and come up with innovative solutions. India has a fantastic opportunity, but clearly it does need elements to come together and work together.