Hemp or Cannabis sativa with limited concentration of an active psychotropic substance tetrahydrocannabinol (THC) <0.3% is a promising industrial crop. It is known for its use in paper industry, textile, biodegradable plastics, paint, biofuel, food and feed. Historical evidence of its use can be traced in ancient literature Atharvaveda (1500 BC); Sushruta Samhita for treatment of phlegm and diarrhea and Persian medical text of 18th century (UnaniTibbi). Cannabis sativa, due to its close relative Cannabis indica (high THC Cannabis), always remained under shadow. It can be a useful source of non-psychotropic cannabidiol (CBD). The recent advances in CBD research and identification of Cannabinoid receptors in human revolutionized its importance in western pharmacology. The use of flowers/buds for cannabidiol (CBD), a non-addictive substance, is extremely useful for pharmacological formulation managing chronic pain, anxiety, inflammation, depression etc.
Also Read: Study: Increasing Protein and Dairy Intake Reduce Burden of Diabetes
The processing of flower and buds of Cannabis is illegal in India. Flower and bud trichome's release psychotropic substances formulated as charas, hashish and ganja. Phytocannabinoids accumulate in the secretory cavity of the glandular trichomes, which largely occur in female flowers and in most aerial parts of the plants. The seeds and leaves are permitted for usage depending on state policy though licensing. Ironically, since ages peoplein India have been consuming bhang milkshake (a preparation of C. sativa or Vijaya) as sacred drink during Lord Shiva related rituals, though its cultivation was legally banned in 1985 by Narcotic Drugs and Psychotropic Substances Act. This act came after International Treaty of 1961 regarding Narcotics Substances.
Also Read: Benefits of Joining IC InnovatorCLUB
Mechoulam (2005) described hemp as "neglected pharmacological treasure trove". Cannabinoids are now recognized more because of their relation with human endocannabinoid system which includes two G proteincoupled cannabinoid receptors (CB1 and CB2) and two ligands (anandamide and 2-arachidonylglycerol). They can modulate variety of physiological responses such as pain, memory, inflammation, appetite, behavior etc. In contrast to Cannabinoids, THC is partial agonist of above mentioned receptors with higher binding with CB1. This may be associated with its known psychoactive abilities. Even though THC's are more potent as a drug which can be used for various treatment protocols, the associated side effects makes it inferior candidate of choice in contrast to CBD. CBD can also reduce THC negative effects and help in improving efficacy of Cannabis based products. CBD is very promising cannabinoid and has been successfully used in preclinical studies of nervous system related diseases (epilepsy, schizophrenia etc.). However, at present, itsuse in therapeutic treatments is still limited.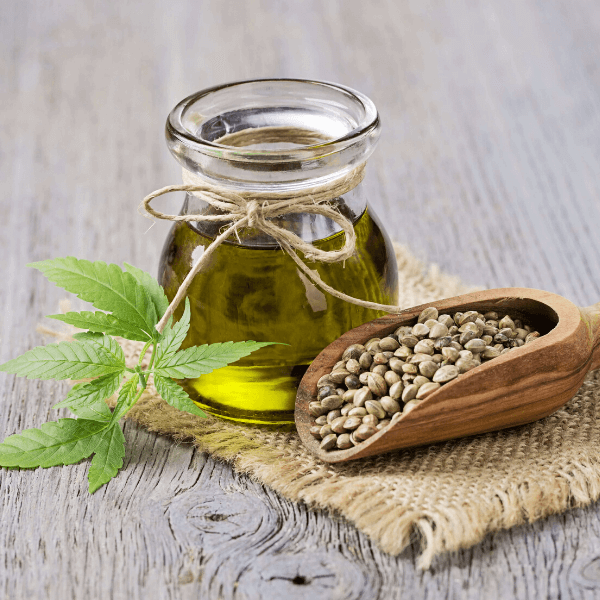 In India, some States have been issued a license to produce hemp either in collaboration with Industrial Association, CSIR based pharmaceutical initiatives or to fulfill the requirement of R&D based activity under AYUSH regulations. Hemp is considered as a source of biomass, fiber, and high-value oil. Fibers based textile market is legal in India, however, at present, it is facing fierce competition. The availability of cheaper yarn from Bangladesh (full exemption of basic customs duty) and China's favor to Vietnam (by waiving import duty) is further fueling the competition. Indian hemp based textile industry is still in nascent stages. Despite high technological advancement available in India, the use of Hemp in providing CBD moieties for new global pharmacological formulations is still not a reality. Even our ecosystem is not ready due to the non-availability of legal backing; technological innovations for using Hemp based fabric for
new quality material; lack of standardization of hemp cultivation with targeted % of CBD as being done in other parts of the world and also state-wise variation in the implementation of the law.
Also Read: Mediatesk Sensio-Biosensor Solution to Health Monitoring
Industrial uses of Hemp provide significant business opportunity, for example some companies have developed Eco-friendly bricks made out of hemp. These bricks absorb carbon monoxide and are durable as cement bricks. The production of hemp bricks can provide economic benefit venture for Indian farmers. This brick-based material was used in preserving Ellora Caves for 1500 years. In India, the major problem in any such venture is 'middlemen policy' which makes end product expensive with least benefit to the farmer (licensing cost etc.). Permission for contract farming lacks legal support. India, unlike developed countries, neither has strict regulation nor it is relaxed enough to cater as uniform business opportunity. Furthermore 'stigma' attached to hemp cultivation (confusion with marijuana) and lack of industrial linkage to farming units with direct export potential further reduces its industrial potential.
Also Read: Foreign Tourists Rallying for Healthcare
On the other hand, without proper monitoring and uniform policy, relaxation of laws might aggravate the situation at ground level. As per understanding of Ayurvedic perspective, the plant resin (especially from wild plants at 2000 or 3000 m height) is charas which is an extremely powerful banned narcotic drug. However, its leaf based formulation bhang is used in Ayurvedic preparation as stimulant, aphrodisiac and also as sedative. The use of CBD in Indian Ayurvedic Formulations (with traditionally known 191 Ayurvedic preparations for 29 different diseases), regulated and approved by AYUSH after clinical testing, are still in a nascent stage. AYUSH medicines still need to bridge gap between their standards with globally accepted norms. The legal aspects of excise duties on medicinal or toilet preparation containing Indian Hemp limits its probable utility. It means when business is exploring its potential crossing excise department, agriculture department, narcotics department, there is no single window approach feasible. This environment-friendly, pest resistant and sustainable crop is self sustainable after few production cycles and can even be easily regulated by the provision of raw material i.e. seeds only via government sources.
Also Read: Monkeys go for Spa therapy
Keeping the vast market potential of hemp in both medical and food industry and significant pressure faced by Indian farmers, major attention from government sources is required. Firstly, amendments to existing regulations to tap complete potential of this industrial crop (especially regulated and controlled contract farming) is necessary. Secondly, the implementation of law requires adequate State machinery with upgradation of Indian Industrial Hemp Association to a forum for awareness, training and feedback platform. The integration of Central Digital Policy for linking of Aadhaar system to transfer benefits directly to farmers by controlling middlemen. Lastly, the development of uniform code throughout the country addressing excise, narcotics, medicinal, research and agriculture/export policy related to Indian Hemp multiple industrial uses with special focus on promising pharmacological relevance.
About the author
Dr. Sarita Jaiswal, Chief Scientific Officer at Carpere, University of Saskatchewan, Canada, is an accomplished Plat Scientist having 15+ years of R&D experience with specialization in cereal and pulse crop biochemistry and genomics. She has been awarded twice for the category of Young Scientist (Indian Society of Plant Physiology and amp; KK Nanda Foundation for Advancement of Plant Sciences).