6th Edition of India m2m + iot Forum 2019 concluded
The two-day forum witnessed industrious deliberations on smart cities & villages
New Delhi, January 17, 2019: The 6th edition of India m2m + iot Forum 2019 (www.m2m2iotforum.com), the national forum on machine-to-machine (m2m) and internet of things (iot) focused on applications of these disruptive technologies in smart cities and villages space was concluded on 15th January after 2 days of enthralling series of Panel discussions, Keynote addresses, Technology show at India Habitat Centre, New Delhi. The forum was jointly organized by the Department of Management Studies, Indian Institute of Technology Delhi (DMS, IIT – Delhi), FI Media (Future Internet and Electronic Media – a prestigious project of the European Union) and India m2m + iot Forum.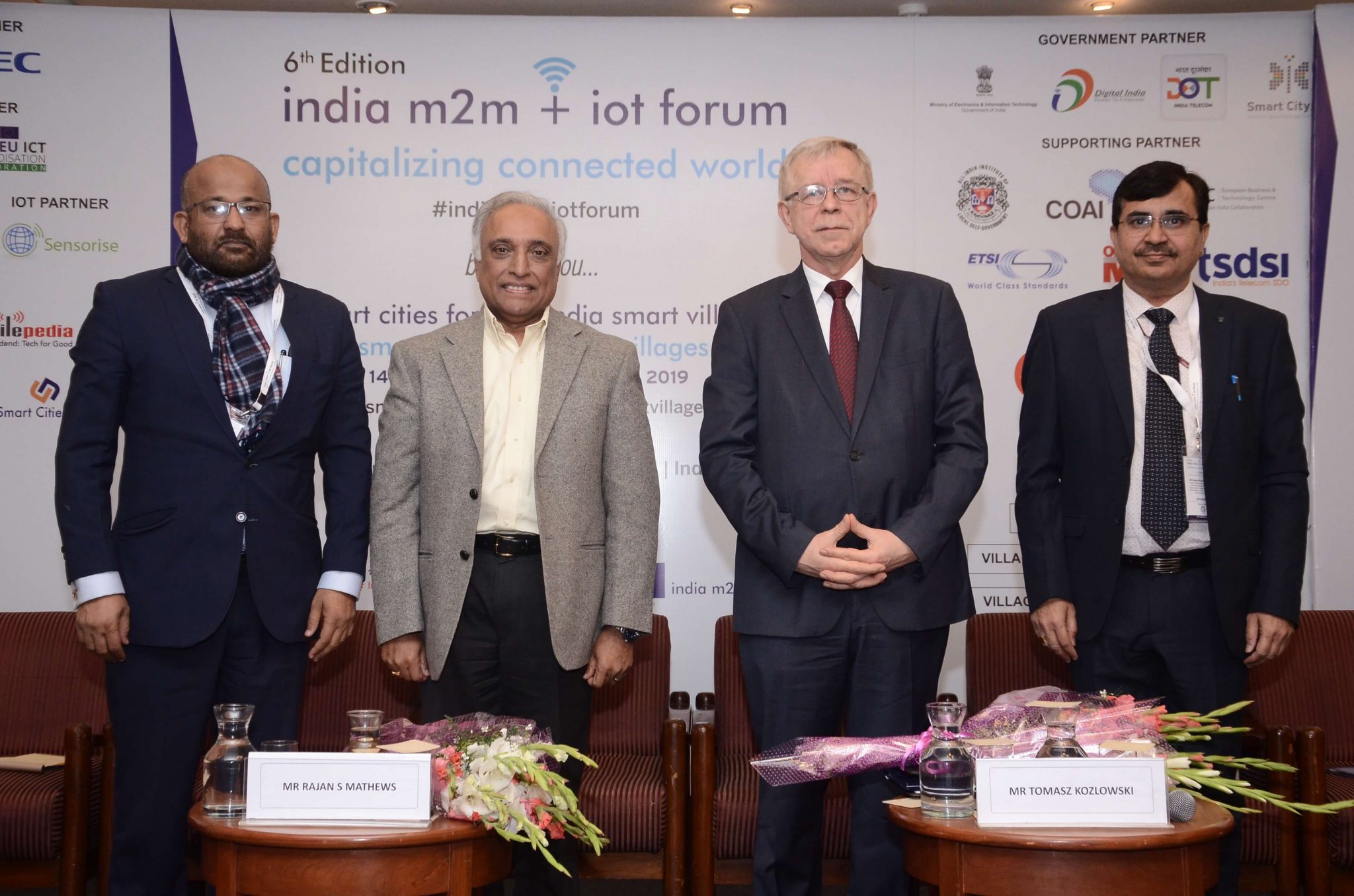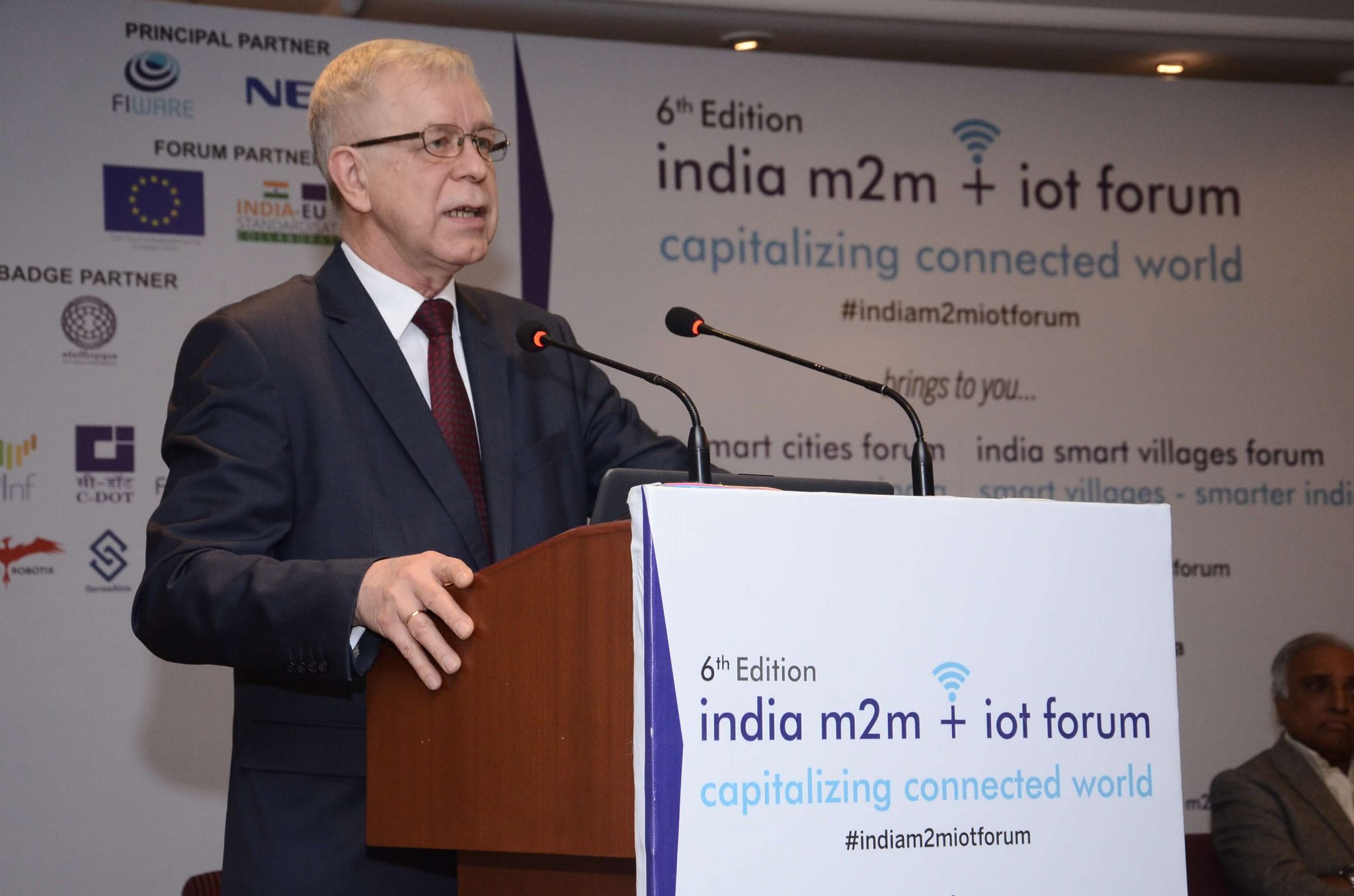 The forum highlighted the need of forward-looking policies and a proactive government to play a role in the development of smart cities & villages on the bedrock of JAM Trinity which has 1bn bank accounts (Jan Dhan) + 1bn Aadhaar + 1bn mobile broadband users, already organized for the technological revolution in this space, thus, Capitalizing the connected World with the help of modern & niche technologies like 5G, GIS, IoT, m2m and others. Likewise, the governments effort to connect 2.5 lakh Gram Panchayats with BharatNet project was discussed to leverage the smart villages concept in India.
5G vision for India was also one of the major highlights of the 2-day forum, as 5G technology has the potential for ushering a major societal transformation in India by enabling a rapid expansion of the role of information technology across manufacturing, education, healthcare, agriculture, finance and social sectors. The panelists voiced that India must embrace this opportunity by deploying 5G networks early, efficiently, and pervasively as well as emerge as a significant innovator and technology supplier at the global level. Emphasis should be placed on 5G touching the lives of rural and weaker economic segments so as to make it a truly inclusive technology.
Ms. Aruna Sundararajan, Honorable Secretary, Department of Telecommunications, Ministry of Communications, Government of India via her message highlighted, "A city is a complex system, involving many different domains, infrastructure, organizations and activity which need to be integrated for that city to emerge as a smart city. Standardisation forms a critical part of the work that needs to be done. Being smart cities, a new holistic and cross functional standardization approach is needed, breaking the old 'vertical silos' approach, through better cooperation and synergies."
"While the cities of India are fast progressing towards digitalization, it is encouraging to note that digital solutions are being readily accepted amongst the rural population of India as well. To support this technology adoption, the Department of Telecommunications (DOT), Ministry of Communications, Government of India, has initiated projects to provide broadband connectivity for connecting various digital services and solutions across our Urban and Rural Landscapes", added Ms. Sundarajan.
Elated about the forum Mr. Kunal Kumar, Joint Secretary (Mission Director – Smart Cities), Ministry of Housing and Urban Affairs stated, "The forum can make noteworthy contributions to the Smart City Program at large. By sharing and collaborating on topics such as technology, multi-country experiences and innovative approaches, I am sure that we can bring together the best minds, and the surest hands to co-create cities of the future."
The attraction of the forum was, NOT TO BE MISSED 'Technology Show – by FIWARE Foundation member companies namely – NEC Technology India, APInf, MobilePedia and Smart Cities Lab Ltd where they demonstrated the OPEN SOURCE PLATFORM designed and developed by the FIWARE FOUNDATION– a market- ready open source software, combining components that enable the connection to IoT with Context Information Management and Big Data services in the Cloud.
The forum also hosted a dedicated session on 'India-EU Dialogue on ICT for Smart Cities' which was organized by the prestigious project, namely, 'India-EU ICT Collaboration Standardization' of the Delegation of European Union to India, highlighting the absolute need for 'Leveraging Standards for Smart Cities', which brought together key stakeholders and smart city officials.
Participants from across the globe got the opportunity to meet Stellapps Technologies – an end-to-end dairy technology solutions company – the first of its kind in India, Sensorise – an IOT Services and Solutions company, Phoenix Robotix – a network-IoT and Big data company, Sensable – an IoT company offering end-to- end smart solutions using artificial intelligence and machine learning, C-DOT – an autonomous Telecom R&D Centre of Department of Telecommunications (DOT), Government of India – showcasing Common Service Platform for m2m communications on oneM2M Specifications.
"We appreciate the participation from our key partners, showing trust in the forum and the vision it stands for. The key speakers, thought leaders and industry leaders have made this forum a thought provoking one with dialogs on disruption these modern technologies can bring to make cities & villages smarter, and at the same time, mentoring the startups in this segment. We are proud to have EU partners to share their insight on business possibilities from across the globe. Thus, making the 6 th edition of this forum a success" concluded Ms. Shilpi Batra, Director, India m2m + iot Forum 2019
About India m2m+ iot Forum
India m2m + iot Forum is a cohesive and shared platform, which validates united and collective vision of the global m2m and iot ecosystem. It is the most awaited annual congregation of m2m + iot stakeholders representing the entire ecosystem comprising of academics, analysts and researchers, enterprises and industry, governments – policymakers and regulators, industry associations and organizations, media organizations, standards organizations, the student's community and above all the end users from businesses, citizen services and government.
For more information, contact:
Pratik Baurai
E-mail: pratik@saintsart.in
Mobile: 9871006258
Sonali Shyam
E-mail: sonali.shyam@saintsart.in
Mobile: 9891820253