In any developing country, there is huge inequality in healthcare distribution due to various reasons such as poor infrastructure, poor communication, inadequate transport facilities, etc. Doctors find it difficult to stay in rural centers due to the above reasons.
It is also well known that 65% to 75% of the population resides in villages that are scattered and not well connected by roads. Hence, the rural population has to travel nearly 8-10 kilometers to access basic healthcare in nearby towns. They spend most of their out of pocket health expenses and at many times borrow money for these expenses.
Keeping this in the background, governments have been working on Sustainable Development Goals launched by the United Nations. Aim of these goals is to ensure healthy lives and promote well-being at all ages. Sustainable health is a huge challenge and it can only be achieved by adopting technology and innovations to improve healthcare delivery.
India now has a robust information technology manpower and the established communication technology is freely available at the village level, mobile phone applications in healthcare and wellness are being used in the rural bridge. Telemedicine is the combination of its communication network and healthcare promises to reach the rural-urban divide and it is also the cheapest and fastest way to reach the unreached population.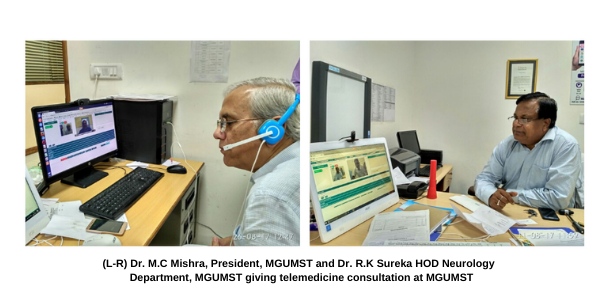 Government Initiatives in Telemedicine
Numerous telemedicine projects are now running in the country under the aegis of the National Health Mission. Rajasthan government has initiated a PPP model telemedicine project on BOOT (build own operate & transfer) concept. The Global Health System Kolkata is the vendor who has been operating the Telemedicine project for the past 3 years. Mahatma Gandhi Medical College and Hospital Sitapura Jaipur have signed MOU with the vendor for rendering telemedicine consultations to the periphery (100/ 150 nodes).
Mahatma Gandhi University of Medical Sciences & Technology (MGUMST) Experience
The experiences gained by providing healthcare through telemedicine is very interesting, it may be noted that the telemedicine consultations have grown with each passing year. It was interesting to note that the teledermatology was increasing on analysis, it was realized that dermatology revolves around photography and visible rules to make a diagnosis.
The numerous efforts made over the years can be analyzed based on the number of consultations: while dermatologists data showed 4011 consultations in 2017, it grew to 31436 in 2019. On the other hand, general medicine was ranging from 4759 consultations in 2017 and dropped down to 2889 consultations in 2019. Cardiologists/CVS/cardiac surgeon consultations were 324 in 2017 and dropped down to 238 in 2019. Obstetrician/gynecologist showed an increase from 854 consultations in 2017 to 1135 in 2019. Oncologist consultations were 33 in 2017 and dropped to 29 in 2019 while orthopedic was at 525 in 2017 and increased to 747
in 2019. Pediatrician/neonatologist was at 6260 in 2017 and drastically reduced to 585 in 2019. Overall consultations during the years 2017-2019  were 105,269.
Conclusion
Telemedicine is the future healthcare system as it reaches the unreached and it allows the remote health workers to avail consultation with territory care specialists in urban areas. The growing number seeking teleconsultations from the peripheral medical setup is proof that telemedicine delivery of healthcare is now being adopted by the rural population.
About the author
Major General Ashok Kumar Singh (retd) from the Indian Army has served all over India – Lucknow, Assam, Mizoram, Nagaland, Agartala, Delhi, Pune, Srinagar, Udhampur and many other places and been on official duties and attended conferences in Austria, Bhutan, Canada, and Sweden. His area of interest is rural health through telemedicine. He is currently serving as an Advisor in Health Informatics at Mahatma Gandhi University of Medical Sciences and Technology at Sitapura, Jaipur. He is also running a BSc course in Hospital and Health Information Administration.