To combat this situation, a futuristic approach which is now reality has emerged as a lifesaver, Virtual Healthcare.
Coronavirus has invaded our lives, and we have suddenly realized that we need every essential service at our doorstep, the very fundamental being the healthcare services. We badly need less people in the hospitals primarily to follow the social distancing norms; furthermore preventing unnecessary exposures to already admitted/ visiting patients with severe health conditions, people with general illnesses, and more so, frontline healthcare workers be it doctors, nurses, ambulance drivers, hospital cleaning staff, etc. Large scale community transmission in India has made us contemplate about the scarcity of healthcare professionals, medical equipment for life and death situations, quarantine facilities, and a robust healthcare system for rural/ remote areas. To combat this situation, a futuristic approach which is now reality has emerged as a life-saver, Virtual Healthcare. It is a convenient and safe system for patients who are home quarantined because of coronavirus, or other immunocompromised patients and those who need a regular follow up with the doctors.
Theoretically, Virtual Healthcare can be understood as the interaction between patient and doctor through the integration of electronically collected, compiled and transferred health information/ data, facilitated by decision support analysis. This is achieved through various forms of communication and information technologies, with the final aim of delivering maximum quality of patient care for prevention, diagnosis, and treatment of a health condition. WHO termed this process Telemedicine, which later evolved into Digital Healthcare and now Virtual Healthcare. One step forward to this is Automated Healthcare, but discussing it is out of the scope of this article.
Indian digital healthcare has been visualized as a prime candidate for investment since 2015. With government initiatives such as Digital India, Aadhar, Ayushman Bharat Pradhan Mantri Jan Arogya Yojana, along with innovation of the private sector in the creation of mobile apps, telemedicine, and innovation centers, have largely carved a path for virtual healthcare startups. In fact, in 2018-19 alone Indian medical technology corporations attracted $571 million in investment. The two major factors responsible for the transformation of the existing healthcare system in India are primarily the doctor-patient ratio which is as low as 1:1404 and secondly, the increase in the use of smartphones and technology-friendly populations.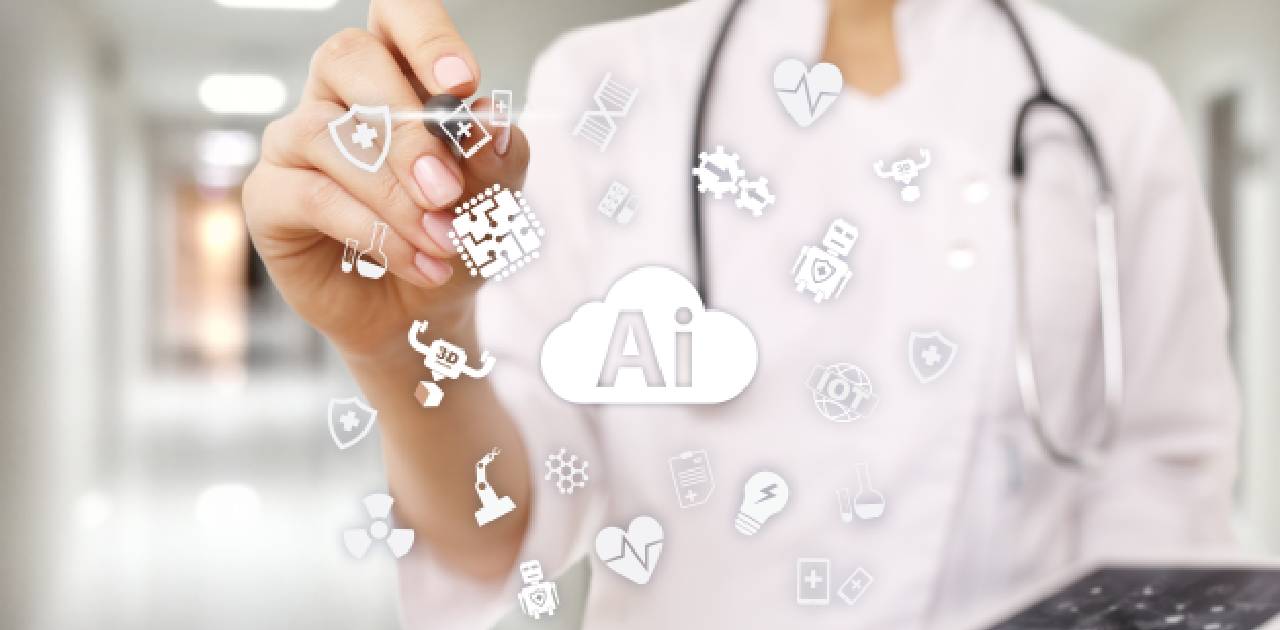 WHO termed this process Telemedicine, which later evolved into Digital Healthcare and now Virtual Healthcare.
Virtual healthcare facilitated by digitalization has emerged mostly via mHealth (mobile health) platforms. The concept of mHealth is being accepted by and large in India, with 68% doctors recommending it and 59% patients using it. Various medtech corporates such as mfine, DoctorInsta, DayToDay Health to name a few, have evolved as user friendly apps with systematic/ sophisticated steps for doctor consultation. The patient needs to go to the particular app, enter his/her symptoms and choose the doctor according to their specific requirement. Depending on the availability of the doctor, the patient could either have a video chat at the same time or book an appointment for later. Prescriptions are prepared simultaneously and are available right after the call. These apps use Artificial Intelligence to assist human doctors.
The algorithms collect patient's medical history, lifestyle and other relevant information. Assembling all this data, a case sheet is prepared for the doctor, even suggesting options for diagnosis and templates for treatment plans. Furthermore, reminders or alarms can also be set for follow-ups, adherence to the medicine routine by the patient etc. On the other hand, if the symptoms are severe and the doctor feels an urgent need to physically examine the patient, the app suggests to do that as well. In addition to General Physicians, the "health apps" have a provision for specialists as well such as cardiology, gastroenterology, fertility etc. Considering the success of virtual healthcare system during the pandemic, several medical institutions such as Fortis hopes to continue with them in the post COVID era as well.
With ~65% Indian population being rural, and the doctor patient ratio there being 1:10926 (National Health Profile 2019) makes it all the more urgent to expand health outreach and set up virtual e-clinics. To test the feasibility and acceptance of virtual primary health care, a 2019 study was conducted with a set up of 20 such centers in Uttar Pradesh, where 800 consultations were made in 6 months with mean patient age of 56 +/- 1.56 years. Such results are promising and depict an overall acceptance of the concept. In dire times of the current pandemic, many such centers have been established all through the country, and are providing mildly- symptomatic corona positive patients with primary care.
Expanding on the Indian government's initiatives for systematic, smooth and citizen-friendly schemes, in June 2020, the Insurance Regulatory and Development Authority of India (IRDAI) has advised the insurers to allow claim settlement for telemedicine wherever medical consultation is allowed. This is supremely beneficial for medical insurance policy holders who may prefer consulting their physicians online or telephonically to avoid going out of their homes to high- risk areas as medical institutions, or are home quarantined.
We should analyse and learn from the healthcare systems in Taiwan, Finland, New Expanding on the Indian government's initiatives for systematic, smooth and citizen- friendly schemes, in June 2020, the Insurance Regulatory and Development Authority of India (IRDAI) has advised the insurers to allow claim settlement for telemedicine wherever medical consultation is allowed.
Another very important area of virtual healthcare is Mental Health. Amid the pandemic, there has been a rise in depression, panic attacks and suicides due to financial and personal burdens. As the numbers of coronavirus positive cases in India are increasing at an exponential speed reaching the 4 million mark, so are anxiety, stress and fear. Ministry of Family Health & Welfare shared an article stating how it is most important to keep ourselves stress-free. Easier said than done, by April alone, Institute of Mental Health in Chennai had counseled over 3000 people over telephone and video chats, suffering from mental issues which were aggravated by the lockdown.
Virtual Healthcare is a symbiotic relationship between Medicine and Information and Communication Technologies. Various laws related to each are clearly defined by the Indian government, but a combined legislation is missing. Virtual healthcare/ telemedicine requires exchange of Sensitive Personal Data or Information (SPDI), and the IT Act contains provisions safeguarding the security and privacy of information exchanged using 'means' recognized under the IT Act. Hence all the medtech companies registered as technology providers are governed by the IT Act. Now, when a corporate body collects, stores and shares this data with a medical institution for further processing, The Data Protection Rules come into action. One of the primary requirements of the Data Protection Rules is "informed consent" of the patient that his/her medical history or sensitive reports will be transferred directly to the doctor/ medical institution/ hospital. If circumstances are such that the SPDI has to be shared with a third party, which could be a diagnostic lab or another doctor of same or different specialty etc., the owner of the SPDI (i.e. the patient) needs to give permission. In most of the cases of MedTech corporations, they only act as an intermediary body which collects, stores, processes and transfers information, all through computer based algorithms without adding any personal bias or judgements. They act as service providers for interaction between patients and doctors. Such corporate bodies which act out of contractual obligations, are not required to obtain consent every single time as directed by Ministry of Communications and Information Technology (2013). In certain cases where there has been a negligence on part of the intermediary, breach in the contractual obligation such as leaking of patient information to a third party without knowledge of the patient or the concerned doctor, does the Indian Penal Code 1860 (IPC) come into action. Since virtual healthcare and telemedicine are becoming the new normal, there is need for regular monitoring on the privacy policies and the quality of healthcare being provided. Moreover, India needs defined legislations for the practice of virtual healthcare.
Pandemic preparedness of a country is measured by Global Health Security Index, where US tops the list, followed by UK, Brazil, Italy and India at 57th position! Furthermore, only 1.6% of India's GDP is dedicated to the health sector, which contrasts to a whopping 10.9% in Japan, 8.5% in US, 8.1% in South Korea followed by developing nations between 2% to about 7%. Strategically we are lagging behind many nations, but we have an added advantage of being better prepared intrinsically. Most of our population lives in natural conditions in villages; the food we consume throughout the year is locally produced and seasonally consumed in most areas; we are exposed to diverse climatic conditions during the six 'ritus' or seasons. All these factors have unknowingly made us more resistant to novel circumstances such as COVID-19. But this does not mean that we can be carefree nation in regard to coronavirus. Pandemic like coronavirus does not differentiate between countries and can damage the healthcare and economic of the country for years. Virtual healthcare is a promising stepping stone for advanced automated healthcare.
Composed by: Dr. Geetika Ahuja
Dr. Geetika Ahuja is a cereal carbohydrate specialist with R&D experience in genetic and biochemical alterations in cereal grain digestibility and its nutritional implications. She is an active member of scientific societies – American Association of Cereal Chemistry and K. K. Nanda Foundation for advancement of Plant Sciences. She has been awarded with several prestigious international awards and scholarships; has won accolades at Life & Health Science Conferences; and has various international publications to her credit. She has contributed as Research Associate in the Biothreat Mitigation Project at CBRN Defence, DRDO; and is currently a Senior Scientific Consultant at Gel Kraft Healthcare Pvt Ltd.