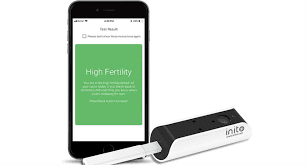 For want to be parents a fertility monitor is a boon for the female partners and with this ideology INITO, a Bengaluru-based medical technology start-up launched a fertility monitor. This fertility monitor is a small device which allows smartphones to perform laboratory grade tests related to fertility with the convenience of conducting them at home. So recently Inito's Fertility monitor was given clearance by the United States Food and Drug Administration which gives way for the launch of this product in the United States and also those other countries which have signed the Mutual Recognition Agreement with USFDA.
From the past one year this fertility monitor which is Inito's flagship device had been undergoing a series of clinical studies, manufacturing facility setup tests as perGMP standards and quality management system throughout the company to ensure the device's efficacy and reliability. The device measures two fertility hormones in urine which are Luteinizing Hormone and Estrogen alongwith Artificial Intelligence(AI) based data analytics in the application. The USP of the device is that it understands the cycle variations for every individual user in order to give high accuracy in results which is unique to every woman's body. The Flat-lens technology of Inito allows dozens of tests for fertility, thyroid, vitamin D, diabetes and some more on a single device that can be connected to a smartphone.
IIT Delhi conducted a study to check the reliability of this device and it found out that the device achieves a 99.12% correlation with clinical-grade instrumentations. Inito believes in times to come home diagnostics will become an integral part of the medical ecosystem and they want to be the leaders of this revolution.
SOURCE: TIMES OF INDIA