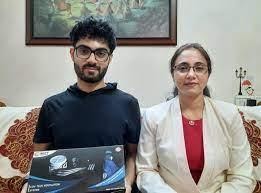 In today's covid scenario use of PPE kits is a boon to the frontline workers and other healthcare workers but it also has major issues like making the wearer feel very hot and humid inside it. Doctors usually wear them for hours together bearing the discomfort these kits bring to them mainly due to lack of ventilation. In order to provide a solution to this problem, a second year Engineering student, Nihaal Singh Adarsh of KJ Somaiya College of Engineering, Mumbai has developed a belt-like wearable ventilation system for PPE kits named Cov-Tech ventilation system. Nihaal Singh has been assisted in this project by Ritwik Marathe and Sayli Bhavasar. These belts can be worn inside PPE kits which run on a lithium-ion battery that lasts for 6-8 hours at a stretch. 
It takes the surrounding air then filters it and pushes it back into the PPE suit. Thus makes sure that the person wearing the kit is not feeling hot and also avoids fungal infections. Cov-Tech Ventilation system is literally like one is sitting under the fan even while he/she is inside the PPE kit. The USP of the product is that it ensures a complete seal from the PPE kit and provides a breeze of fresh air in a gap of 100 seconds to the user.
The creator of such a belt was inspired by his mother who is a General Medicine practitioner who shared with him stories of difficulties faced by herself, colleagues and nursing staff back at their workplace while wearing their PPE suits. Drenching in sweat was the most intolerable feature of wearing the PPE kits for long hours. This led Nihaal to make an innovative invention to help his mother and others at their healthcare setting.
When Nihaal started working on a new product, he developed the first model in 20 days and finally took nearly six months to make an initial prototype that he had to offer to the medical fraternity. The first prototype was to be worn around the neck which could suck air through its U-shaped air inlets and had a pillow-like structure which could just curl around the users' neck. Unfortunately this prototype got rejected as it was uncomfortable to wear around the neck due to the constant sound and vibration this device emitted.
So he started working on new designs and eventually made a product in the form of a belt which can be easily worn around the waist relieving the health workers from the problem of sweat and humidity inside the PPE suit. It gave the users' dual benefit of, firstly, a well-ventilated suit and secondly, kept them safe from fungal infections by keeping them sweat free. The product is made of high quality components and also safety protection measures are kept in mind as this belt-like product is worn close to the body. This innovation has been supported by Gauran Shetty, Chief Innovation Catalyst at RIDL and CEO of Dassault Systems, Pune.
Nihaal has created a Start-up named Watt Technovations and received INR 10 lacs for prototype development and product innovation by the Department of Science and Technology, Government of India. Cov-Tech ventilation system seems to be a feasible solution to the discomfort caused by PPE kits and hopefully the creators will be able to make this product available in the commercial market soon fulfilling its demand. Presently the belts are being used at Lotus Hospital and Sai Sneh Multi-Speciality hospital, Pune.
SOURCE: www.thequint.com