India's vaccine diplomacy took further wing with 1 lakh anti-Covid shots being sent to Oman, a close partner in the Gulf, after having supplied the jabs to immediate neighbours. Later this week, India is scheduled to send over 5 lakh doses to Afghanistan. India will also send 2 lakh doses to Nicaragua, 1 lakh to Barbados, 70,000 to Dominica and 1.5 lakh to Mongolia, though dates are yet to be finalised.
Egypt, Algeria, UAE and Kuwait have all purchased vaccines and are on the commercial export list. Apart from the gifts, Mongolia (10 lakh) Nicaragua (3 lakh), Saudi Arabia (30 lakh), Myanmar and Bangladesh are among those who have contracted to purchase vaccines from India. The purchases are made commercially but need export clearance from the Indian government.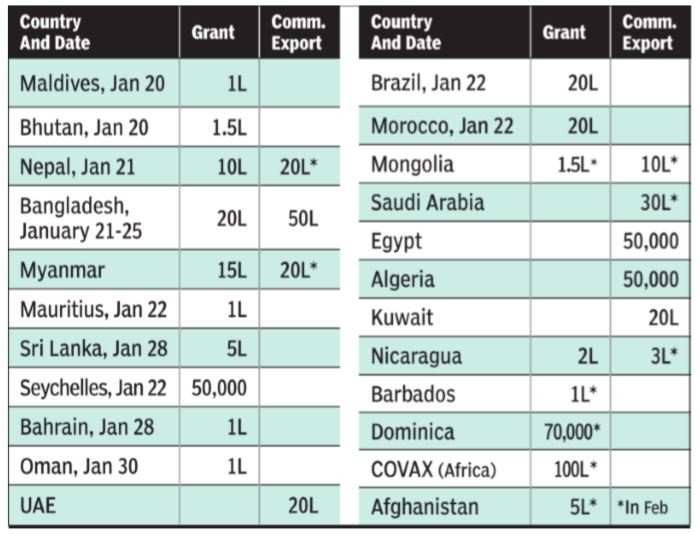 Meanwhile, around seven million made-in-India doses of AstraZeneca's Covishield vaccine will be part of Pakistan's free Covid-19 vaccination drive starting next week under the global Covax alliance, PM Imran Khan's special assistant on health Dr Faisal Sultan said on Sunday.
As a special Pakistani plane departed for China to fetch the first batch of Sinopharm's Covid-19 vaccine, Dr Sultan announced that around seven million out of the 17 million committed doses of Covishield would reach the country by March. "Though AstraZeneca is being prepared in India, it will come through Covax, an international alliance which has announced free vaccines for 20% of Pakistan's population. DRAP (Drug Regulatory Authority of Pakistan) has already registered both Sinopharm and AstraZeneca," Dr Sultan said.
The UN Covax initiative will see India selling about 100 lakh doses of vaccines. In addition, the UN will be buying about 4 lakh doses for its own workers all over the world.
India's vaccination drive is attracting attention, with Indian ambassador to the Philippines Shambu Kumaran tweeting on Sunday that the Asean nation was examining India's rollout of inoculations, pointing to reports in the local media there.