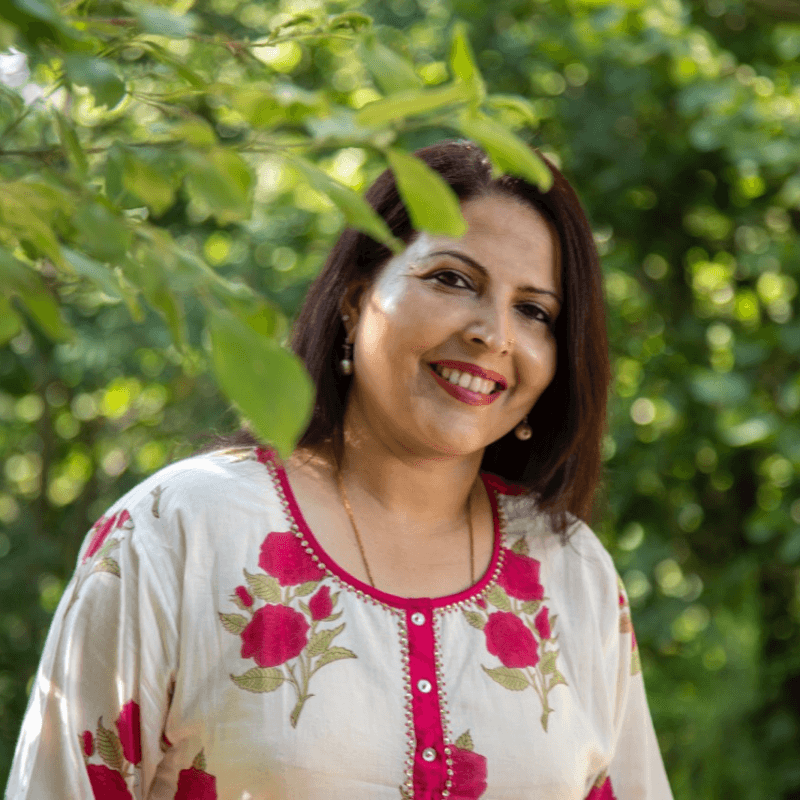 Nivedita Joshi is a multi-dimensional person with significant accomplishment in the field of Yoga. She is imparting her knowledge about Iyengar yoga through her institute 'Yogakshema'. Her personal ordeal with slipped disc, cervical spondylosis, an early-stage scoliosis has made her bedridden and invalid for eight long years. She even lost her ability to move her hands and legs. An inspirational road to recovery started when she joined as a patient under the tutelage of the legendary B.K.S. Iyengar, pioneer in the field of Iyengar yoga. Her twenty-two years of training and hard work has motivated her to help others through her knowledge.She has penned down her knowledge in a book on Yoga for the visually impaired in Braille. This book was released internationally during the first International Day of Yoga celebrations at the UNESCO Headquarters in Paris.

Surgeon R Admiral V K Singh, Editor in Chief of InnoHEALTH took her interview to get a glimpse of her inspirational journey from yoga to Yogakshema. This interview is important to honour her to let people know about her achievements on International Yoga Day
Q. What are different types of Yoga and how are these different from each other?
All types of yoga are Patanjali yoga with 8 limbs: Yama, Niyama, Asana, Pranayama, Pratyahara, dharana , dhyan &  Samadhi . Different yogis had their own style and contribution in the field of yoga & that developed into different schools of thoughts in music or dance.
Q. Is meditation part of yoga ?

Dhyana is part of yoga Or Meditation, its 7th Limb of Yoga. Practice of asana  prepares your mind to focus & aims towards dhyana.
Q. You could cure yourself with help of your guru Iyengar from cervical spondylitis and slip disc which had put you in a wheelchair for 12 long years in pain and agony. How to emulate your dedication and motivation and how Iyengar Yoga is different.

When I met Dr. B.K.S Iyengar for the first time without me saying or explaining anything to him he diagnosed my issues just by looking at my skin at the base of the neck & I was amazed to see the depth of his knowledge and surrendered at his feet that very moment. When he started teaching me, as a student of science I realised, his work and knowledge is very scientific & par excellent. I was already fed up with modern Allopathic medicines & their respective side effects. The improvement with this practice of traditional knowledge reaffirmed my belief in Indian medicine system. 
Few qualities that make Iyengar Yoga different from other school of Yoga are-
Alignment 

Precision

Sequencing of asanas

Timing of asanas

Improvisation of asana without diluting its classical effects

Innovations of Props and use of them for people with different health conditions. For e.g.  A person like me who was unable to move her  body was not only doing classical asana & holding the pose also but was also gradually recovering 
I was motivated to practice every day as after so many years, I was able to move my body & limbs & there was great hope to walk again normally. I started to have a life without pain. He was an excellent Guru with immediate improvisations his forte, whenever he saw my limitations, he would invent then & there new improvisation of asana & would give me the confidence to do it and make me feel better & better day by day. He worked very hard on me as I was an interesting and challenging case for him & I reciprocated by practicing equally hard & making notes of his scientific way of teachings the way he wanted & the bond of Guru & shishya became stronger & stronger.
Q. You are doer and show the way by your personal example and grit to your learner. What are diseases you have attended in which yoga has been helpful?
Patanjali Yoga sutra says "Heyam dukham anagatam"! means practicing of yoga will postpone the setting up of the disease or if it does set in, one would sail through easily in the recovery, so practice of yoga is beneficial for anyone & everyone. There were many diseases such as back pain, neck pain, knee pain, heart ailments, Aasthama, hip joint pain, Stress, BP, etc. which were treated through yoga. 
Q. How has yoga been beneficial for stress management of young professionals, children, pregnant women and senior citizens ?

Yoga not only improves physical fitness, but it is something much more, it is beyond physical health. The human persona is not only a body but is also mind, intellect & soul. Yoga attempts to harmonise all of them. As a result, one possesses a healthy body, a sharp intellect & an unflickering or focused mind so practice of yoga is the best way in such a fast moving world to work on our stress. Kids have immense energy  yoga channelising their energy  and bringing an excellent focused mind which allows them to excel in their endeavour.  It is said  " As you sow, so you ripe ". In the time of pregnancy practice of yoga not only gives excellent health to the mother but also gives excellent health to the child. 
Pregnancy practice of yoga keeps hormonal level normal, it doesn't allow B.P. to go up & sugar levels are maintained normal . It gives peace of mind and as a result the child is very healthy. For senior citizens when they are at home practice of yoga not only brings good health of body and mind but makes them independent. In the Iyengar system practice of asana and pranayama  is very easy as it allows the use of many props and improvisation of asanas which not only give them confidence but also gives the satisfactions of being able to use the body and mind in the correct direction.
Q. Can you give details of book you have authored and what is its learning
I also teach visually impaired people yoga & they enjoy studying it. I am the first person in the world who has written a yoga book "Yogikasparsh in Braille so that visually impaired people can also get the benefit of this. 
Q. Today's interaction is important because of International Yoga day on June 21. What message would you like to give to people to commemorate it ?
Yoga is the best gift India has given to the world. Yoga teaches us the fundamental unity between human beings & humankind between us & the environment. The essence is to experience that "All in one". Keep practising yoga!!