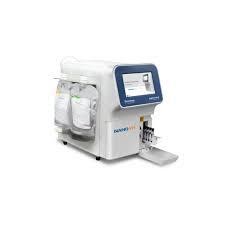 In the global diagnostic field many advancements are being made to effectively and efficiently manage diabetes. One such effort has been made by a leading Indian medical devices company, Trivitron Healthcare which has recently launched two innovative products named NANO H5 and NANO H 110 for the detection of HbA1c and Hemoglobin variant. Both NANO H5 and NANO H110 are high performance liquid chromatography analysers for the detection of HbA1c within 130 seconds. These analysers based on HPLC (high performance liquid chromatography) technology are going to be used to monitor thalassemia, diabetes and haemoglobin variants.
NANO H5 is a fully automated, compact HPLC analyser which uses ion exchange liquid chromatography for quantitative determination of the glycated haemoglobin (HbAIc) in human blood with processing time of 130 seconds that will speed up the turn around time in Laboratory. The product is equipped to process 5 samples at a time.
NANO H110 is also a fully automated, compact HPLC analyser which has a dual test mode for HbA1c test and haemoglobin variant detection. It comes installed with advance facilities like barcode scanner and cap piercing with a sample loading capacity of 110 samples at a time. This seems to be the USP of this product and is likely to make it more suitable for laboratories with medium to large workloads. These analysers are designed for precision and their compact size makes them user friendly.
SOURCE: CXOTV.NEWS