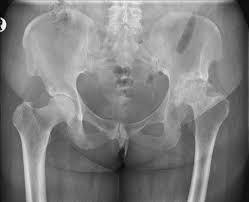 Avascular necrosis is a rare disease associated with many factors which cause direct damage to the vasculature of the bone, direct injury to the bone or bone marrow which ultimately leads to mechanical failure of the bone. In simple terms it is the death of bone tissue due to lack of blood supply. Till date many pharmacological agents including statins, bisphosphonates, anticoagulants like aspirin, enoxaparin and vasodilators have been tried to prevent the progression of osteonecrosis without successful documentation by imaging. Thus nothing has been able to successfully reverse the disease or promote the growth of viable bone in the necrotic lesion.  Recently a 56 year old female patient who presented herself at Moolchand Medcity, New Delhi, India with an early stage Avascular Necrosis was successfully treated by the use of oral Rivaroxaban under medical supervision.
This is the first time in the world that a case of early stage Avascular Necrosis has been successfully reversed by oral Rivaroxaban. The patient was a known case of Type-2 diabetes mellitus, hypertension, obesity and dyslipidemia who came to the hospital with pain in her left hip joint and groin area for the past one month both at rest and aggravated by walking. There was associated limping too. In this case with the use of Rivaroxaban, a newer oral anticoagulant (NOAC) there was total revascularisation of the jeopardised head of the femur bone which was validated by serial MRI scans. The conservative treatment of the patient was done with a dosage of Rivaroxaban 10 mg daily with other symptomatic treatment. One month after the treatment there was significant decrease in symptoms and the patient started to walk without assistance. MRI pelvis done after 3 months of treatment showed no abnormality of the hip joint.
MRI done after 6 months of treatment showed sustained recovery evident of remarkable successful reperfusion of jeopardised head of the femur with complete recovery from AVN which is revolutionary.
Credit: Photo by Unsplash
SOURCE: WWW.HEALTHTECHNOLOGY.IN