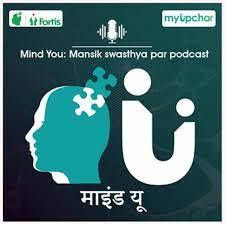 As per the National Mental Health Survey, depression is a mental illness that affects one in 20 indians. A frontrunner in the management of ill mental health is Fortis Healthcare in which it runs one of the most comprehensive and biggest mental health programmes in India under the leadership of Dr. Parikh and myUpchar is India's biggest healthtech startup. Not much substantial work has been done in the field of mental health in India especially in a language which is comprehensible by most of the Indian population. Keeping this lacunae in mind upChar has created "Mind U' a first-of-its-kind deep dive into mental health and wellness podcast in Hinglish that is in a language that is accessible to most Indians and to many Indians living abroad in collaboration with Dr. Parikh and a team of experts from Fortis.
On this podcast leading experts under the leadership of Dr. Parikh will take listeners through crucial aspects of psychological well-being in 20 minutes or less speaking on topics ranging from clinical disorders like depression, deepdive into parenting to topics related to youth like relationships, sexuality and social media. The episodes of Mind U will be telecast on Apple podcasts, Google podcasts, Castbox, YouTube, Spotify, JioSaavn and HubHopper. In each episode the experts will answer a series of questions on the topic du jour and the topics range from parenting 101 to breaking up without breaking down. Listeners can expect an in depth discussion about things which we all can relate to, that happen to us in our day today life like effective handling and navigation of social media and maintaining our relations even as our lives become busier and busier.
Listeners will be guided to see the connection between the things we do every day and our mental health. It is indeed a much needed step in this direction and we applaud the efforts made by Fortis Healthcare and myUpchar.
SOURCE: HEALTHVISION.IN