Background on IC Nursing InnovatorFORUM
Incepted in 2015, InnovatioCuris (IC) has been striving to deliver Qualitative healthcare at an optimum cost at all levels. InnovatioCuris Foundation of Healthcare and Excellence (ICFHE), the not-for-profit arm of IC, reaffirms the orbit by focusing on social impact projects.
With the mission to bring awareness and knowledge sharing of various facets of Healthcare Innovation, IC and ICFHE organise conferences, webinars, magazine publication, massive training sessions, course development, and market access programs in both the physical and digital spectrums.
Today's nurses are vital members of society because they promote health, educate the public and their patients on how to avoid illnesses and injuries, take part in rehabilitation, and offer care and support. Given that nurses are unsung heroes, we created the IC Nursing InnovatorFORUM, and this meeting covered the theme of "Nursing Practice Trends & Innovation." This was important as this was our first Forum meeting.
Numerous seasoned leaders in their fields were invited to participate as panellists and keynote speakers. Ex. Capt. Dr. Geeta Parwanda, PhD, RN-RM Principal and Dean, Faculty of Nursing Swami Vivekanand Subharti University mediated the discussion.
Speakers were as follows: Key note speaker- Dr. Rathi Balachandran, a former assistant director general (nursing) for the Indian government who is currently a professor at RML.
Panellists:
Dr. Sneha Vaidya, Regional Nursing Head Western Region Apollo Hospitals Maharashtra
Ms. Saino Thomas, currently working as Group Chief Nursing Officer, American Oncology Institute Hyderabad, Telangana
Dr. L. Gopi Chandran, Associate Professor, College or Nursing AIIMS New Delhi
Around 200 people have registered for the Forum and 48 have attended the session.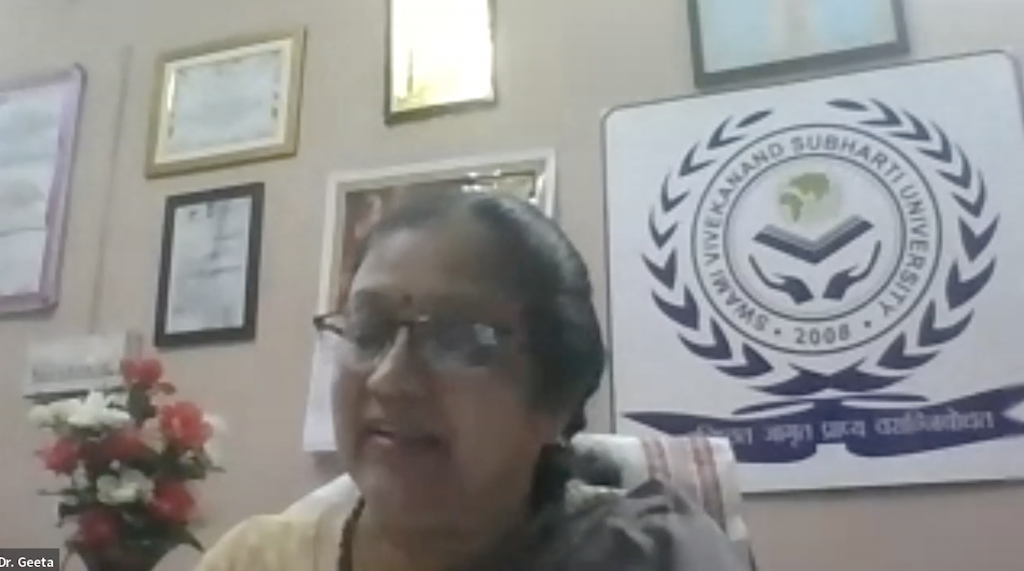 The meeting commenced with Ex. Capt. Dr. Geeta Parwanda, PhD, RN-RM, Dean Swami Vivekanand Subharti University, introducing the IC Nursing InnovatorFORUM and the motive behind having "Nursing Practice Trends and Innovation" as the theme for the edition of the meeting. Dr. Geeta welcomed every dignitaries and panelists and participants. She then welcomed and introduced Surgeon R. Admiral Dr. V.K. Singh, managing Director InnovatioCuris Pvt. Ltd. to shower his blessings and move forward. Dr. Singh showed his gratefulness for introducing him to everyone. He then told that how he has been really interested in launching this forum for nurses and how he has been trying for so long but couldn't succeed. He then stated how this idea of NursingFORUM has come to him.
Dr. Geeta then presented the panellists, starting with the keynote speaker, Dr. Rathi Balachandran, a former assistant director general (nursing) for the Indian government who is currently a professor at RML. Dr. Geeta then asked Dr. Rathi to express her thoughts on the subject of nursing innovation as someone who has experience in many different nursing-related fields.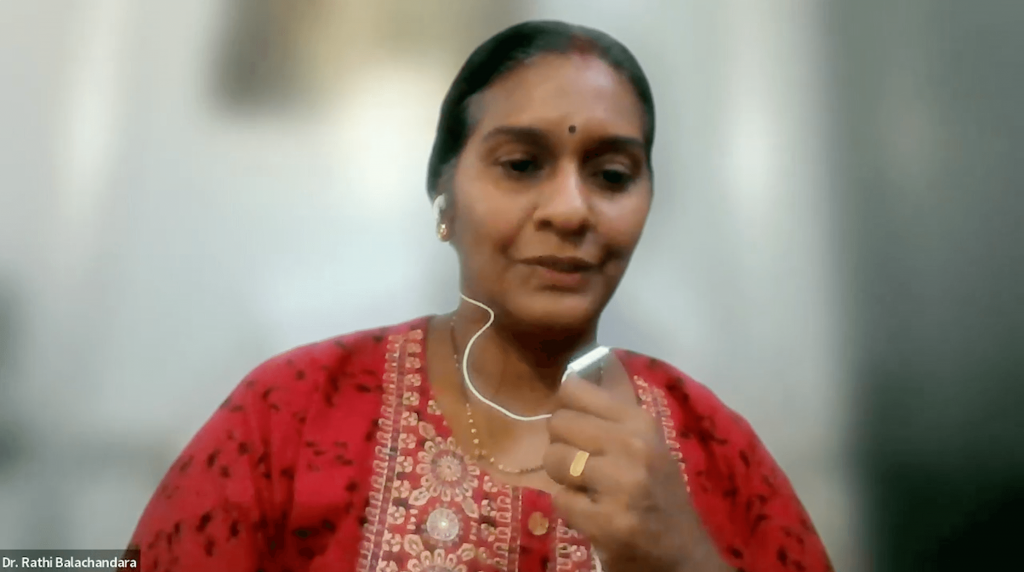 After greeting everyone, Dr. Rathi began by explaining the crucial role that nurses and midwives play in achieving the Sustainable Development Goals and Universal Health Coverage. The subject of "Serving on Organizational Boards," on which she intended to present her opinions, was then introduced. She continued by quoting Dr. Tedros Adanom Ghebreyesus, Director General of the World Health Organization: "Nurses and midwives are not only crucial for providing health services; their expertise and knowledge are also a valuable asset in forming health policy, and their voices deserve to be heard at the policymaking table." She continued by saying that all healthcare systems depend heavily on nurses and midwives.
Together, they represent 90% of patient-health professional interactions and represent 50% of the world's professional health workforce. Professionally speaking, nurses are capable of making a significant contribution at the board level. Apparently, professional devotion is most vital and should be looked after by the board members, according to scientific studies. Additionally crucial are effective managerial abilities and communication. Contrary to our country, where nursing is underutilised, only a few developed nations have recognised the value of nursing. She continued by mentioning several international nursing projects. The four main pillars of nursing are education, employment, leadership, and service provision. She continued by saying, "Think locally, act globally." Then she thanked everybody.
Dr. Geeta thanked Dr. Rathi for her insightful views and introduced the next session i.e. Panel Discussion. She then introduced the first panellist Dr. Sneha Vaidya, Regional Nursing Head Western Region Apollo Hospitals Maharashtra. She then requested Dr. Sneha to share her views on sub-topic Transforming nursing practice to improve care.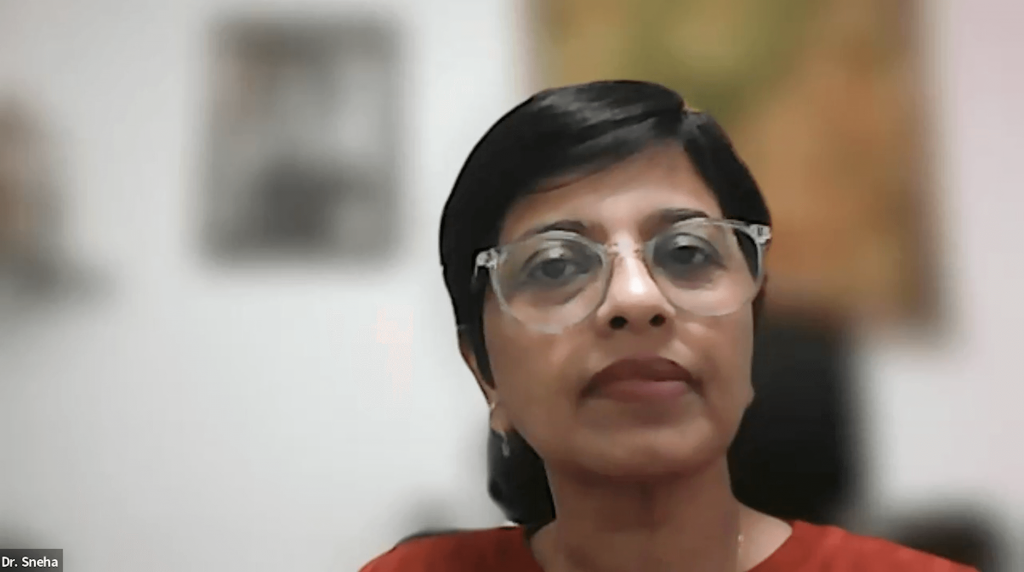 Dr. Sneha started by quoting Tedros, director general of WHO "The pandemic has reminded all of us how much we all depend on nurse from our first days to our last and why all countries must invest in nurses new and for the future". She then stated that it is a profound statement and gave example of Pandemic how nurses have been in the frontline by putting themselves in the risk. She then expressed her views on how does it look like to be a nurse? She said that you start as a student but there a lot of complexities ahead around you in healthcare. So, the first thing you need to be is sensitive and sensible. Sensitive means having compassion.
The next step is to Plan, implement and evaluate the care. Next thing is to take correct decisions. She should feel satisfied and find your work meaningful and fulfilling. The next thing is to upgrade your clinical acumen and participate in educational program as there is a lot of knowledge sharing and learning and then determining your future paths and finding your place in healthcare like whether you want to be in education, clinical services or technological services etc. She then moved forward and threw some light on the needs for innovation in Nursing. First one is to maintain quality health services and then being competitive in technology.
The next one is increasing advances in healthcare field and emerging clinical and nursing specialities. Other than being a nurse only, a nurse can widen her horizons such as be a wound management nurse, pain management nurse, chemo nurse, nurse practitioner and nurse informatics specialists. Dr. Sneha then concluded by saying that a nurse should know how to think, how to access, interpret and use knowledge, how to defend their ideas. She then thanked everyone.
Dr. Geeta thanked Dr. Sneha for her views.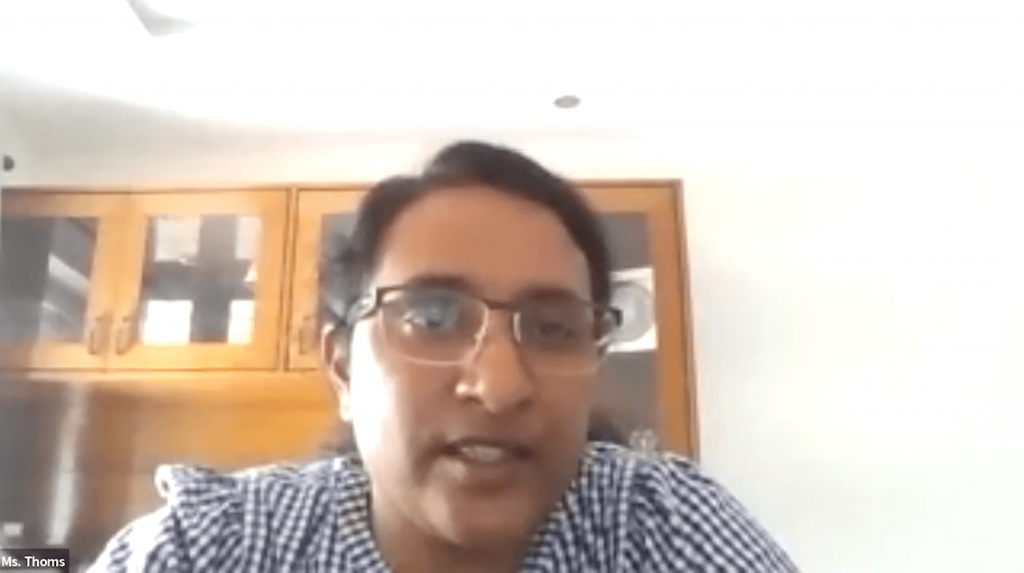 Dr. Geeta then welcomed and introduced next panellist Ms. Saino Thomas, currently working as Group Chief Nursing Officer, American Oncology Institute Hyderabad, Telangana. Ms. Saino Thomas greeted everyone and showed gratefulness for giving her the opportunity. She started by sharing an insightful story connecting it with importance of mentorship. It is important to look at new mindset and the new results that come out. Practically the things are different than what is in curriculum. When we come down to real life scenarios the organisations and hospitals have a lot of other things as we have to look at a lot of documentation policies. Every organisation have different culture and values. So, when you switch from one organisation to another, you have to comply with its values and culture as well as mission and vision.
She then explained how can we bridge that? We need to implement the knowledge into clinical settings. And mentor is the one who will help you to bridge this. She stated the goals that are there for a mentor-mentee relationship. A mentor should validate the mentor's leadership skills. They need to be recognised as an advisor. They need to be learning to clearly communicate. They need to be gaining perspectives. They should be giving back and finding new talent. Now from the mentees' perspective like a mentee needs to learn the workspace culture and accelerate skill development. They need to expand professional network as this helps you to learn together.
They need to transfer your knowledge. Now coming to the mentoring tools, first one is induction and second one is competency mapping. Next one is credentialing and privileging. Next one is buddy system. There are some self-monitoring things also you need to keep in mind which will ultimately helps you to grow both laterally and vertically. She then discussed that what should be look for in a mentor? Mentor will help you in job orientation, career transition, skills, professional or personal development. He will be there as a confidant, technical advisor and correspondent.
Coming to the strategies for effective mentor-mentee relationship, first one is to commit to each other, develop trust, plan goals etc. She then concluded by showing a video and saying that if we have a right mentor, then those destinations can work out for the best of us. Ms. Saino thanked everyone. Dr. Geeta thanked Ms. Saino for sharing enriching thoughts on mentorship.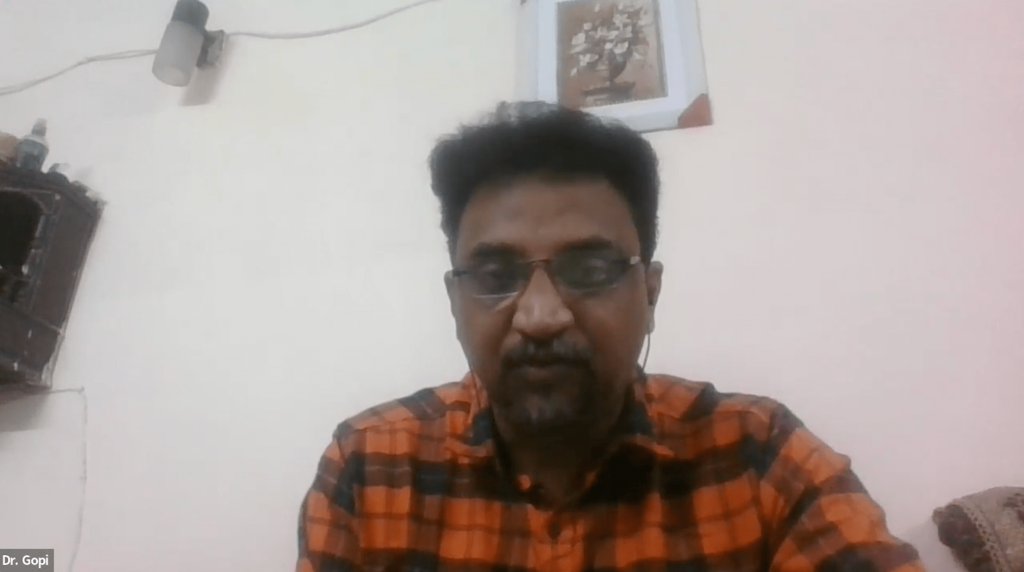 She then welcomed and introduced the last panellist Dr. L. Gopi Chandran, Associate Professor, College or Nursing AIIMS New Delhi. She then requested Dr. Gopi Chandran to share his views on how nurses should adapt to the digital world and how the program can help in their personal and professional growth?
Everyone was welcomed by Dr. Gopi Chandran, who expressed his gratitude for the opportunity. He began by discussing the significance of nursing as a career and how nurses are quickly becoming one of the most crucial elements in healthcare systems all around the world. He brought up Florence Nightingale in his speech. She thought that maintaining health meant preventing illness due to environmental factors. According to Nightingale, nursing has a duty to advance a person's health.
Then he displayed a picture of God's hand. Because of COVID-19, several nurses came up with the innovative notion of consoling isolated patients in the hospital. He continued by saying that nurses are also criticised for doing the same things over and over again and failing to come up with novel ideas. He also provided some insight into how the nurses ought to embrace technology. In the past, they had trouble with technology. So every nurse benefits from embracing technology. Then he discussed how the nursing and medical communities link to the many digital health areas. He went on to explain why digital health is becoming more popular.
The first step is to increase patient access to care and decrease any inefficiencies in the healthcare system. The next steps are to raise the standard of care, lower costs, and employ more qualified healthcare providers. He shared few experiences with everyone. He concluded by saying that developing digital capabilities in nursing will ensure that nurses are able to keep pace with the digital evolution of healthcare sector, allowing them to reap the benefits of going digital while also enhancing patient care. He then thanked everyone.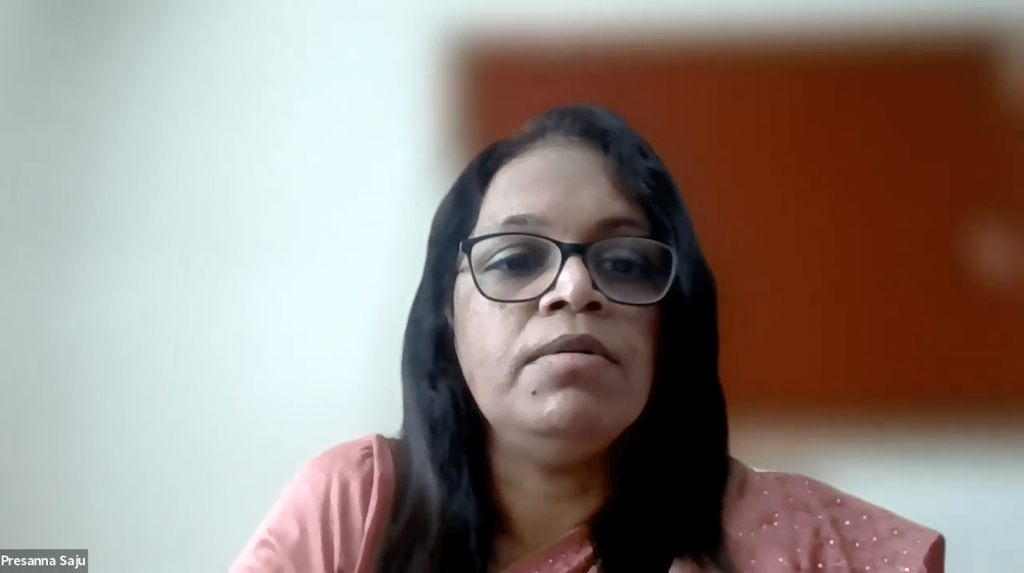 Dr. Presanna Saju, Sr. Manager, Nursing Jaypee Hospital, Noida joined the session for vote of thanks. She thanked every panellists and participants for joining the session and showed gratefulness on behalf of IC InnovatorFORUM.
The session ended.