Drone Rules, 2021 has replaced the complex approval process required to fly drones beyond the visual line of sight (BVLOS). Certification has also been made easier.
The Healthcare Industry being so dynamic in nature, asks for innovations and new inventions at every moment. These inventions might be out of curiosity or necessity. The innovations done in the Healthcare Industry are aimed at two major aspects; provide effective care to the patients and increase efficiency of the service providers (Physicians, Hospitals & Other Clinical Staff.) We must note that the health status of a nation is not only reflective of its citizen's well-being but also impacts its economic advancement. A healthy population is more productive and effectively contributes towards the overall progress of the country. This makes healthcare coverage for each citizen vital.
Over the years India has improved immensely in health parameters such as life expectancy, mortality rates, health & sanitation, immunization, among others. Emerging technologies such as IoT, 5g, Robotics etc. have changed the way healthcare industry operates and the patients' experience. As with nearly all other sectors in the world, digital innovation has proven to be a real tipping point in the healthcare sector globally. Emerging digital healthcare solutions not only improve access to healthcare services, but they have the potential to create holistic healthcare ecosystems. All health needs for a patient – from consultancy and diagnostics to medicine delivery, home healthcare, and remote patient monitoring can be served via these ecosystems, which will also help maintain comprehensive electronic medical records and build a patient's longitudinal history.
The Government's focus on digitization of healthcare, has given a rise to integration of new technologies and data management. In the long run, it will bridge the gap between physicians and patients or between two physicians, especially in remote areas. Taking a step ahead, the recently announced financial budget for 2022-23 emphasized on creating an open platform for the National Digital Health Ecosystem, consisting of digital registries of health providers and health facilities, unique health identity and universal access to health facilities. Such foundational changes can be challenging on an organizational level but can result in a notable transformation due to its compound effect.
Ayushman Bharat Digital Health Mission is launched with a vision of creating a national digital health ecosystem that supports universal health coverage in an efficient, accessible, inclusive, affordable, timely and safe manner based upon standard digital systems ensuring the security, confidentiality and privacy of health-related personal information. It has four major components viz. Health ID, Healthcare Professionals Registry (HPR), Health Facility Registry (HFR) & Health Records (PHR). The mission aims at creating a common health platform for individuals (patients), Healthcare professionals, Healthcare Facilities & the Policy makers i.e. State & Central Govt. Health care professionals across disciplines will have better access to a patient's medical history (with the necessary informed consent) for prescribing more appropriate and effective health interventions. The integrated ecosystem will also enable a better continuum of care. ABDM will help digitize the claims process and enable faster reimbursement.
This will enhance the overall ease of providing services amongst the health care providers. The implementation of ABDM is expected to significantly improve the efficiency, effectiveness, and transparency of health service delivery overall. Patients will be able to securely store and access their medical records (such as prescriptions, diagnostic reports and discharge summaries), and share them with health care providers to ensure appropriate treatment and follow-up. ABDM will empower individuals with accurate information to enable informed decision making and increase accountability of healthcare providers. Moreover, the healthcare facilities will also be easily accessible to the individuals with the help of geolocation provided on search engines & they can treat patients from throughout the country with the help of Health ID created on ABDM which will be common for any public or private healthcare facility in the country containing all their medical history as consented by the individual.
Like ''The Medicine from the Sky (MFTS)'' programme in India's Telangana state commenced with the agenda to replicate urban-grade healthcare in rural areas and address unique scenarios that affect local populations.
Another highlight is the introduction of Drone Deliveries to remote areas, to provide better access to the healthcare facilities. While drone deliveries have been in the works for a while, liberalized drone guidelines for commercial operators have facilitated adoption at a large scale, Drone Rules, 2021 has replaced the complex approval process required to fly drones beyond the visual line of sight (BVLOS). Certification has also been made easier. Besides, the government is creating special corridors for drone delivery. Under the Drone (Amendment) Rules, 2022, commercial drone flyers do not require 'remote pilot license' to legally fly. They simply require a remote pilot certificate, which can be issued by an authorized remote pilot training organization.
The Healthcare Industry will be the first large-scale adopter of commercial drone delivery after the government liberalized rules for operating drones in August-2021. Skye Air Mobility, a drone delivery startup has partnered with 85% of organized diagnostic centres, including SRL Diagnostics and Redcliffe to deliver test samples and medicines using drones. Besides, the company is working with e-commerce and food delivery platforms like Swiggy and Dunzo, who are planning to use drones in cities for delivering groceries. Drones will allow multiple flights and reduce costs on manpower and vehicle substantially. States are also running trials for commercial drone delivery. Like ''The Medicine from the Sky (MFTS)'' programme in India's Telangana state commenced with the agenda to replicate urban-grade healthcare in rural areas and address unique scenarios that affect local populations.
The recently concluded MFTS 45 days trials in the Vikarabad district of Telangana state provide sufficient evidence of the advantages and potential of the technology, especially when combined with aviation policy changes. They provide a proof of concept not just of the technology but also the approach adopted and serve as a model for implementation in the developing world. In the first scheme of its kind, 8 participating drone consortia conducted long-range temperature-controlled vaccine deliveries in rural areas which were beyond the visual line of sight (BVLOS), thus paving the way for numerous other programmes of a similar nature in the region, such as blood stock, diagnostic specimens, Reduce mortality caused by snakebites or rabies, Improve treatment of cases that require second- and third-line antibiotics, Provide "urban" standard of care to rural patients and many more.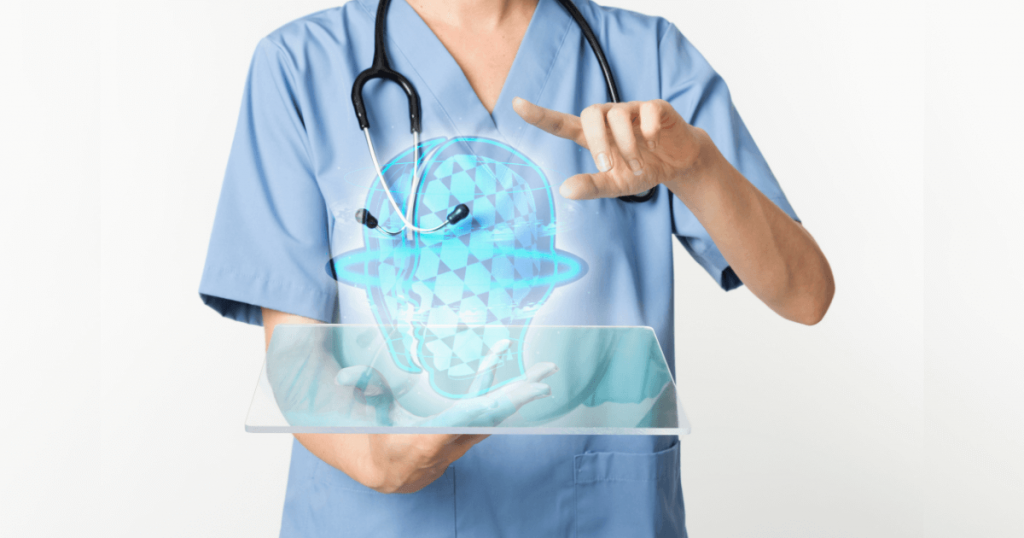 Going a level up in the field of Healthcare, IT has become a need now as it will not only improve operational efficiency but also help in reducing the overall cost in the long-term. Adapting AI in the Hospitals has several advantages, listing some of them below:
Accuracy in the various Diagnostic procedures by stitching multiple images such as CT scan for detecting tumors, cancers, etc.
Remote Patient Monitoring Systems provide real time patients' vitals' information such as BP, Pulse, Temperature which helps the doctors & nurses to monitor patients from anywhere without any physical contact & also helps them in making prompt decisions w.r.t patient care. India based startup Helyxon is offering an AI-based biosensor 98.6 Fever Watch which continuously monitors temperature digitally and alerts doctors or attendants about any abnormal spike. Devices like Cube Sensors that are very simply designed cubes to measure air quality, temperature, humidity, noise, light, air pressure and based on patients' personal information, they adjust the relevant factors for optimizing their well-being at home.
Reducing Need for Follow-Up Visits by tracking patients' health remotely with the help of wearable devices or the use of Health Robots or AI Doctors that can assist and serve the patients 24/7.
Wearable devices are one of the biggest applications of IoT in Healthcare Industry. They not only help in tracking the patients' vitals but also help in managing the crowd with the help of geo tracking sensor by sending data about each device's current location and alert when people exceed from predefined limit at specific area. A such example is a Digital Tattoo that captures the electrical activity of your heart (ECG) and/or the blood pressure levels. Devices like Vein Scanners could be used handy in the hospitals- to ease the job of phlebotomist, to find veins, especially for the dehydrated patients which otherwise becomes a tedious task for them. This will also make ease for the patients as it will cause them lesser pain and difficulty.
A research team led by Boston University has used 3D printing technology to develop a miniature replica of a human heart – and it beats like the real thing. The researchers believe their heart chamber replica could serve as a testbed to study how the organ works in the human body. It can be used to track how the heart grows in an embryo, how heart tissue is affected by diseases, and how effective new medications are in treating said diseases, all without the need for human testing.
The role of Virtual Reality is being studied in palliative care. In fact chronic pain patients have been seen to take less pain medication when they play VR games. What if dying Covid patients could have visited their favorite places using VR? Imagine also if hologram technology could be leveraged the way NASA did in teleporting a doctor to the International Space Station. Using holograms to bring patients' loved ones to their rooms can likely have a positive impact on their state of mind, thereby reducing the stress on our physicians.
Artificial intelligence is increasingly being used in healthcare not only for decision support but to reduce the administrative burden that contributes to physician burnout. To ease the burden, AI-powered voice solutions like Suki are working to reduce doctors' documentation workload and improve access to patient information. Jallel Harrati, Senior Vice President of Sales and Marketing at Suki, compares the Redwood City, California-based company's flagship application Suki Assistant to Apple's Siri, but for doctors. As Suki seeks to continually improve the functionality of its digital assistant, the company announced last week that it had added new voice-enabled capabilities.
The voice solution Suki Assistant uses machine learning and natural language processing to accurately understand and document information and respond to physician commands, according to the company. Digital technologies are being harnessed to support the healthcare industry worldwide, including population surveillance, providing remote and personalized care, evaluation of interventions based on mobility data and communication with the public. Various Nations' Governments are also taking initiatives and focusing towards digitization to transform the face of Healthcare Industry.
Composed by: "Neha Lal, Senior General Manager, Hospital Operations & HR, comes with an immense knowledge in the field of Hospital management. She is presently associated with GCS Medical College, Hospital & Research Centre, Ahmedabad. She is also associated with NABH (National Accreditation Board for Hospitals & Healthcare) as NABH Assessor from Quality Council of India (QCI) New Delhi. For her contributions she was conferred with many prestigious accolades."