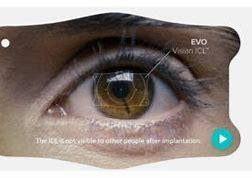 Most cases of astigmatism, which is blurred vision caused by an irregularly shaped cornea and near sightedness, can be corrected with laser eye surgery. The procedure done here requires removal of some of the corneal tissue, often leaving patients with lingering dry eyes. So STAAR Surgical which is headquartered in Monrovia, California, USA and is a leading manufacturer of ophthalmic surgical products wherein designs, develops and sells implantable eye lenses, took a note of this scenario and recently launched EVO visian implantable collamer lenses.
These EVO intraocular lenses provide an alternative with a minimally invasive new way to correct or reduce both conditions of nearsightedness and astigmatism. The procedure takes almost an hour in which a flexible collagen-containing lens is implanted between the iris and natural lens. Though the implant can sit in the eye permanently but still can be plucked out by an ophthalmologist if needed. The USP of this product is that it combines the perks of contacts and laser surgery.
As per the published results of the clinical trials, nearly 88% of patients reported 20/20 or better and almost all patients achieved 20/32 or better distance vision after six months. An added feature of the product is also that the lenses block some ultraviolet rays for added protection.
Source: www.staar.com