Introduction
The 5th Annual International healthcare conference was the latest milestone held at Indraprastha Institute of Information Technology, Delhi on 9th-10th December, 2022. The conference was organized in partnership with the Academy of Hospital Administration, Committed to Safer Healthcare(CAHO), Scanbalt Bioregion, and Public Health Foundation of India. The theme of the conference was 'DIGITAL HEALTH'.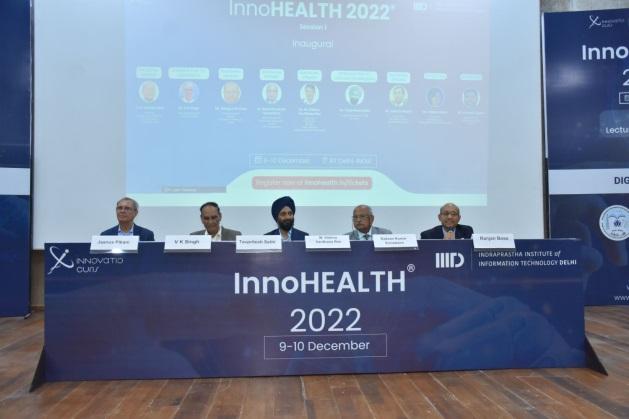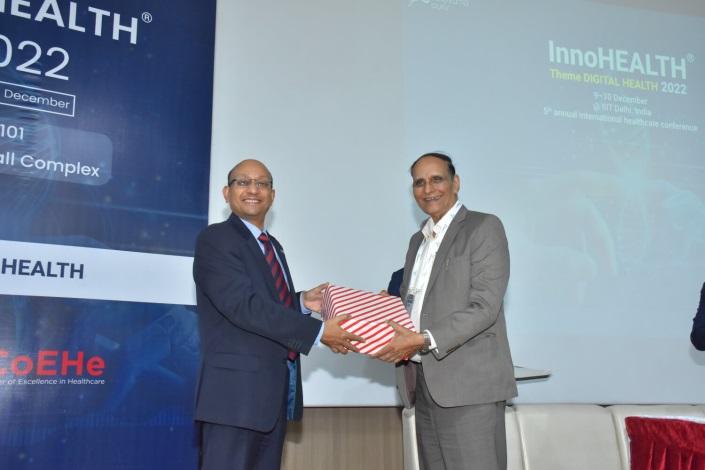 The conference served as a one stop platform to meet influencers, investors, startups, young innovators, and media houses in healthcare innovation. The event witnessed discussions on diverse areas pertaining to digital health, healthcare data, digital competence of healthcare forces and many others. The conference lines up with the aim and intent of Ayushman Bharat Digital Mission, National Health Policy(2017), and National Education Policy (2020).
The InnovatioCuris Foundation of Healthcare and Excellence alongwith Arvind Lal Vandana Lal (ALVL) Foundation celebrated and encouraged innovation in the healthcare sector by organizing "Young Innovator Award". The award received total 102 nominations this year, the judging panel for the award included Prof. S. Venkataramanaiah, Professor of Operations Management, Indian Institute of Management Lucknow, Prof. Saurabh Gupta,
Assistant Professor, NIT Raipur, Dr. Mohit Gambhir, Innovation Director, MHRD Innovation Cell, Government of India, Mr. Saurabh Kumar Chaubey, CEO, iHub Anubhuti-IIITD Foundation.The conference saw an accomplished panel of speakers in the track of two days.
Day 1:
Pre-Conference Workshop: Dealing with Healthcare Data for Clinicians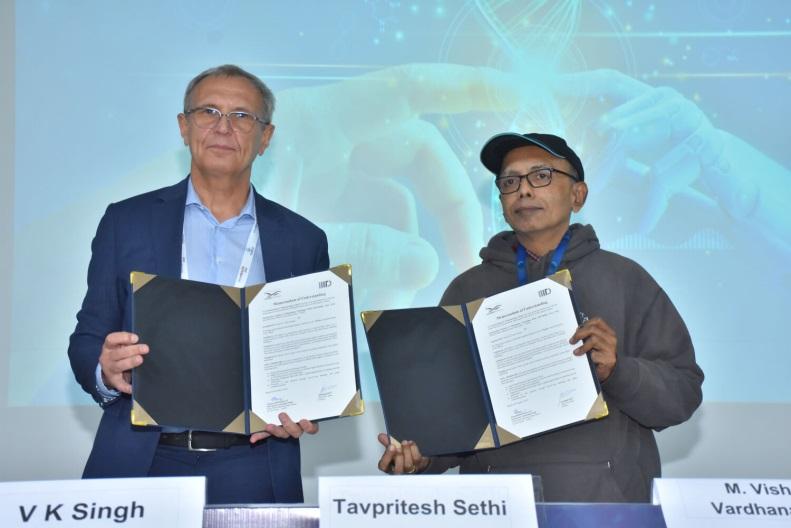 Session 1: Inaugural
In the inaugural session, Prof. Ranjan Bose, Director IIIT-Delhi emphasized on sustainable and cohesive approach with the help of new age technologies. IIIT- Delhi has also set up the center of excellence in healthcare two years back aiming at working in the field of digitizing healthcare. Followed by this, Dr. Jaanus Pikani, Chairman, ScanBalt & Tartu Biotechnology Park, accentuates that the government and policy makers need to ponder on the thought of accelerating the digital services for end-to-end delivery of healthcare services. IIIT-Delhi also signed an MoU during the conference, aiming to develop cooperation in digitizing healthcare.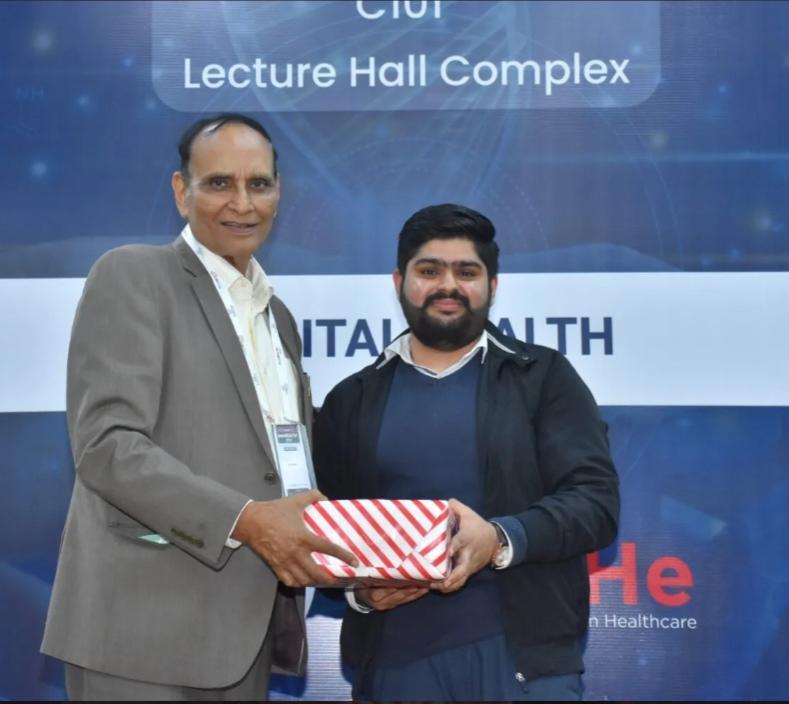 In the first session Dr. M. Vishnu Vardhana Rao, Scientist G and Director ICMR-National Institute of Medical Statistics discussed the transition of data science from hypothesis testing to Artificial Intelligence (AI) and big data analytics. He also explained us about the three major principles of AI given as follow:
Responsible use of data and algorithms
Functional competence
Transparency around technology's limitations.
AI is estimated to contribute over 15 trillion of the world economy by the year 2030 and the greatest impact will be on healthcare.
Data Privacy is important for both the patient as well as the doctor.
Mr. Margus Solnson, Deputy Head of Mission Estonian Embassy in India was another inaugural speaker for the session he stated that " Estonia is a place with a unique digital ecosystem" where they deal with E- health records and  E-prescriptions where patient and the doctor can interact and access the data easily.
The other inaugural speakers were Dr. R K Srivastava, Senior Advisor for innovation and public health and Dr. Jaanus Pikani, Chairman, ScanBalt & Tartu Biotechnology Park, discussed the circular bioeconomy and sustainable development for the working group. Scanbalt working groups aim to raise awareness among decision makers and help to transfer political goals to practical action and find possibilities to share the best practices.
There were two invited speakers for the session first one was  Ms. Shipra Mishra, CEO & MD, Delhi Research Implementation and Innovation, she discussed the sustainability of  science and technology clusters for uptaking the innovation from lab scale to market. Mr. Utkarsh Uppal was the second invited speaker from Deep Learning Solutions Architect, NVIDIA. He talked about different domains of healthcare  for example Federated leaning , MONAI (personalized for medical imaging data), HOLOSCAN etc. He also introduced AVATAR or digital twins used for neurosurgeries. 

Session 2: Invited Talk on Digital Health Implementation / Case Studies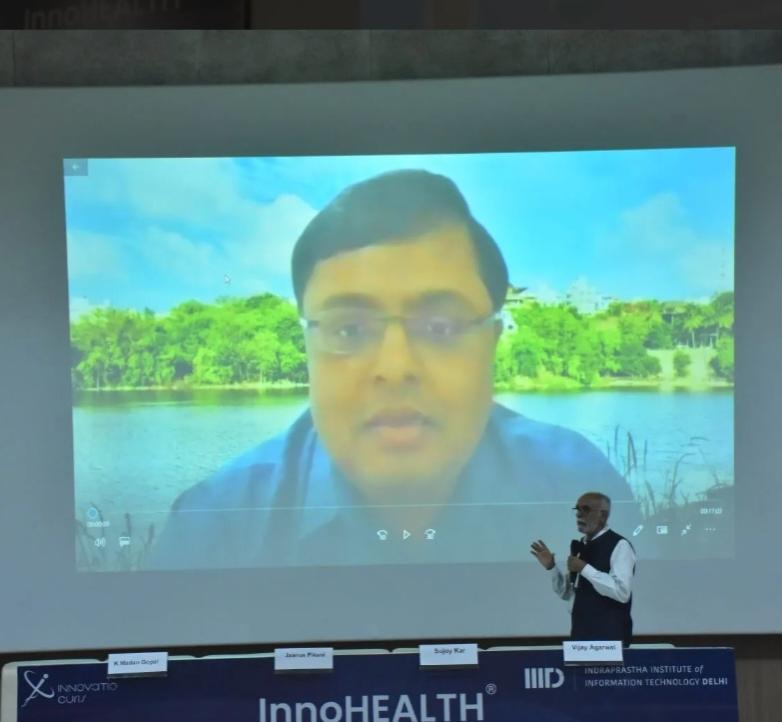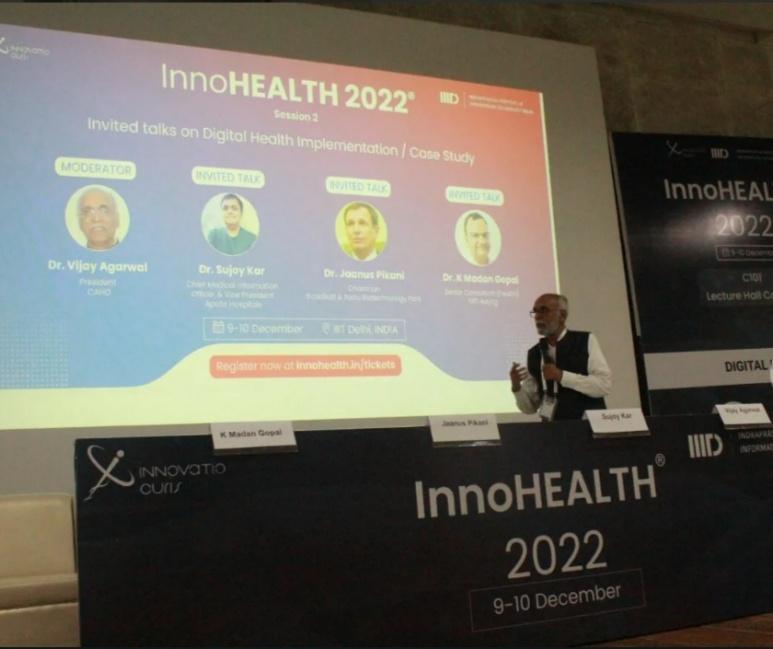 The session moderator was Dr. Vijay Agarwal, President, CAHO and the first invited speaker Dr. Sujoy Kar, Chief Medical Information Officer & Vice President Apollo Hospitals shared his views on Healthcare analytics and Management to reduce health risks and promote wellness. He also told us about benefits of the clinical AI and Machine Learning Programs in the post covid situation.
Dr. Jaanus Pikani, Chairman, ScanBalt & Tartu Biotechnology Park was the second invited speaker who introduced us to an amazing tool that brings patients to the right level of mental health professional known as DocuMental. This tool helps in problem identification, diagnosis, treatment and generates automated documentation. This tool helps in saving 50% time with better quality and self monitoring for the patients as well as the doctor. 
The last speaker for the session was Dr. K Madan Gopal, Senior Consultant (health), NITI Aayog, his elucidative session on better understanding of ICT landscape in health and its drawbacks for example low level of accountability and lack of unique identifiers for patients etc were discussed. NIKSHAY,KILKARI and NMCN are some digital health initiatives that discuss about Institution framework eHealth like National resource center for Telemedicine and Center for Health Informatics.
Session 3: AI / SaMD implementation challenges and opportunities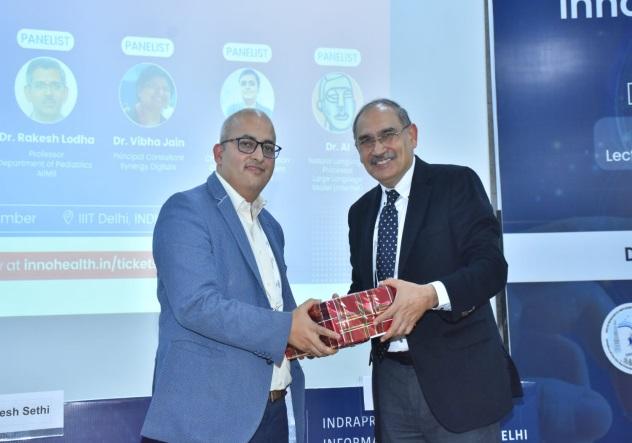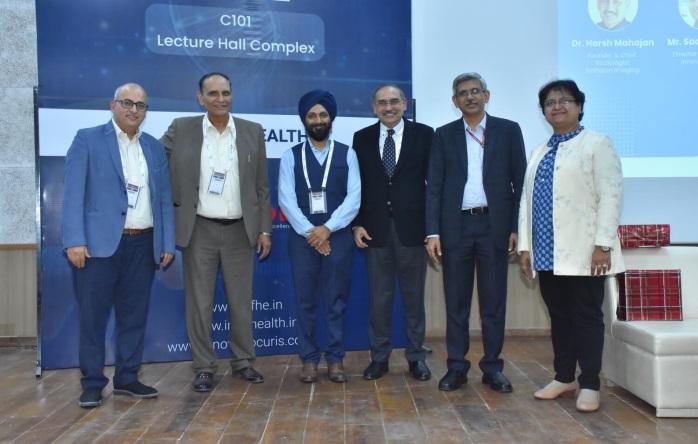 Last session for the day was moderated by Mr. Sachin Gaur (Director Operations, InnovatioCuris) and the panelists include Dr. Tavpritesh Sethi, Associate Professor (CB), IIIT-Delhi, Dr. Rakesh Lodha, Professor, Department of Pediatrics, All India Institute of Medical Sciences, Dr. Vibha Jain, Principal Consultant, Synergy Digitals, Dr. Sujoy Kar, Chief Medical Information Officer & Vice President Apollo Hospitals and Dr. AI, Natural Language Processor, Large Language Model (Internet). Keynote speaker for the session was Dr. Harsh Mahajan, Founder & Chief Radiologist of Mahajan Imaging, who talked about the major contribution of medical imaging data in Healthcare. He explained about evolution and the changes occurring in the sector of diagnostics. They have made 10 centers in India which provide equipment for faster and better diagnosis. He discussed the future of screening by combining Genetic risk and Acquired risk compared with the current status of the body to get the best screening protocol and treatment.
Day 2
Session 4: InnovateHER: Inspiring Women Leaders in Digital Health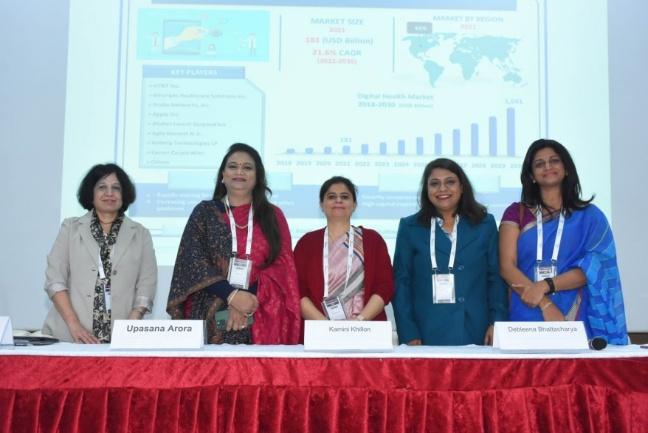 Moderator for the session was Dr. Sunita Chauhan, Director, Robotics & Mechatronics Engineering and Professor, Mechanical & Aerospace Engineering Monash University Australia and the panelists were Ms. Upasana Arora, Director, Yashoda Super Speciality Hospitals, Dr. Kamini Khillan, Senior Consultant, Sir Ganga Ram Hospital, Dr. Debleena Bhattacharya, Assistant Professor, Marwadi University and Dr. Gitanjali Yadav, Scientist, NIPGR New Delhi, Adjunct Professor of Data Science, IISER Bhopal. They as panelists discussed about how every different aspect of healthcare requires a different AI system. Dr. Kamini Khillan gave us an example of blood sample tagging and handling using software which also helps in cold chain management.
Documentation through tagging can help both the patient as well as the doctor to locate the sample easily. NGS is a software used to generate genotypic data and every transfusion is recorded at a haemovigilance system or transfusion reaction sheet which can be accessed easily by the doctor. As stated by Ms. Upasana Arora "Healthcare is a place where nobody comes happily. Every patient needs empathy and a touch of a doctor". To deal with any situation a healthy conversation is required so with this data can also be generated happily. Dr. Debleena Bhattacharya explained the environmental aspects for good healthcare waste management. At the end Dr. Gitanjali Yadav encouraged every woman to join the SWATI portal to reinvent herself, not stack yourself and make a change in the society via digitization.
Session 5: Digital Health Services for Non-Communicable Diseases / Preventive Health Care
The contribution of the nursing sector in the digital healthcare sector was also discussed. Nursing professionals should be trained on a regular basis for multidisciplinary projects to improve the healthcare sections especially the nursing sector.
Dr. Ravi Gaur, Founder & Director Unipath DRG Specialty Laboratories Chairman Medical Advisory Committee Unipath Specialty Laboratories Ltd. was the moderator for the session.
First Panelist for the session was Dr. Sanjay Sharma, Co – Founder, FootSecure, Yostra Labs who has talked on the integration of AI with 4D printing. WOUND 360 application helps in analyzing wounds and connects the patient with the wound expert. Efficient and effective assessment of acute and chronic wounds helps the clinicians to improve wound diagnosis and optimize treatment plans, and achieve quality of life for the patient population.
Ms. Khushboo Agarwal was the second panelist Founder of  Zyla Health. She discussed the human assisted AI for 24x7x365 real time personalized care.This reduces healthcare expenses and gives better insurance policies for treatment.
ZYLA DIFFERENTIATION= CHATBOT + inhouse TEAM
Mr. Bhuvan Srinivasan, Chief Business Officer, Ultrahuman the third panelist talked about metabolic health being the foundation of health and longevity.The metabolic health can be improved with lifestyle data including workout, nutrition and sleep.
Dr. Amit Raj, Managing Director, Plexus Cardiac Care was the last panelist for the session who deals with rural as well as urban cardiac care. He introduced the rural heart clinic infrastructure offering well equipped cardiac care units as well as online consultations.
Session 6: Getting Healthcare Data Right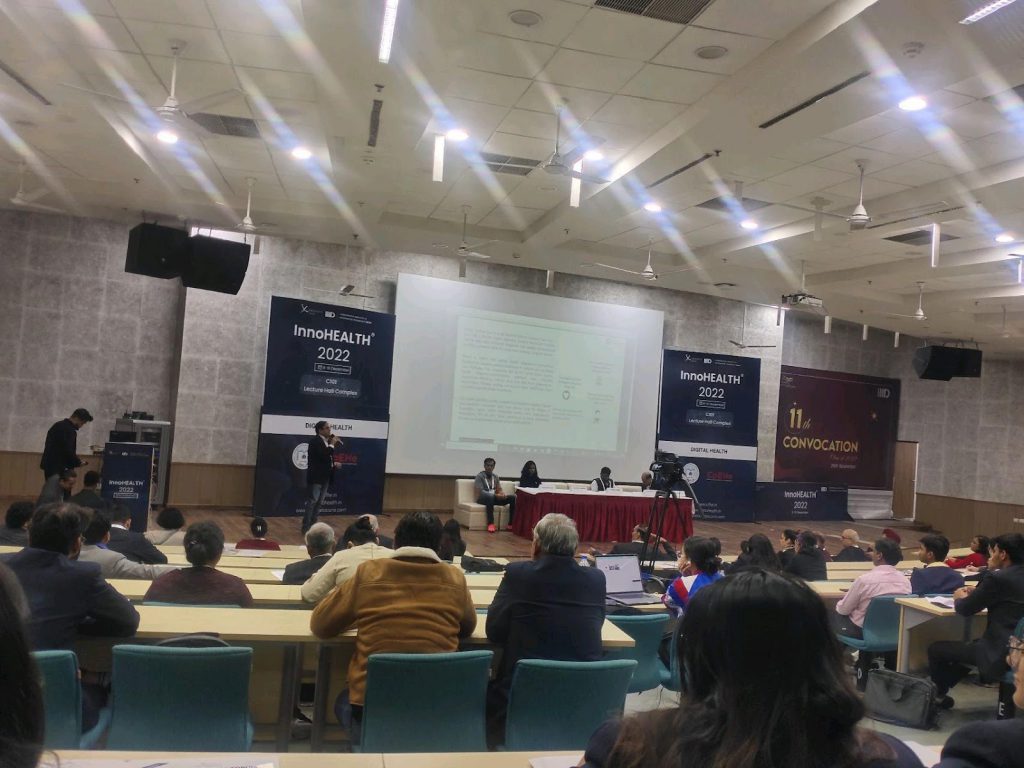 Ms. Brahmajyot Dhillon, Healthcare Analytics Solutions and Delivery Leader Marsh McLennan was the moderator for the session. Mr. Partha Dey, Founder & CEO, U4RAD was the first panelist who emphasised about getting the data right and the purpose of collecting data. He told the way to segregate the data at the collection point and ensure the content collected should be right and entered accurately. The second panelist was Dr. Hemant Kumar, Visiting faculty, FMS, University of Delhi gave us how the oil was found from the stack that can be connected with the data. The data should be firmly and critically analyzed for the amount and the quality of the data to be generated. Dr. Vibha Jain, Principal Consultant, Synergy Digitals spoke about the importance of the data and use it wisely while maintaining privacy.
Data  Privacy is important for both the patient as well as the doctor. The session came to an end with a discussion on the healthcare paradigm change brought on by technical developments like electronic health records. This trend will transform the traditional doctor-patient interaction and usher in a new era of patient empowerment where the patient will assume greater responsibility for sustaining good health.
Fireside Chat: Counselling by effective communication in wellness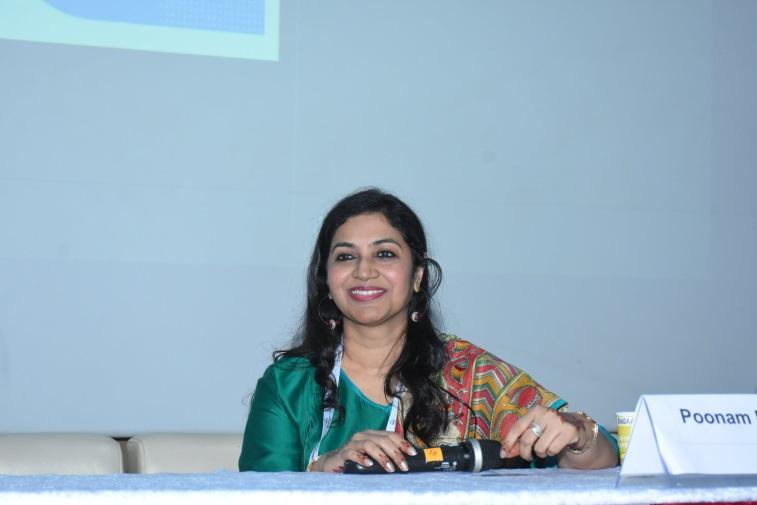 Dr. Ravi Gaur, Founder & Director Unipath DRG Specialty Laboratories, Chairman Medical Advisory Committee Unipath Specialty Laboratories Ltd and Ms. Poonam Bhargava, Director, VNAND – The Learning Academy helped us to connect counseling with Digital health. She stated " data is the soul which makes a story and everyone needs good space for mental health and managing emotions' '. Digital health helps to deal with mental wellness and this can be stated as 
WELLNESS= HEALTH+HAPPINESS
Session 7: Preparing Indian Healthcare workers for Digital Services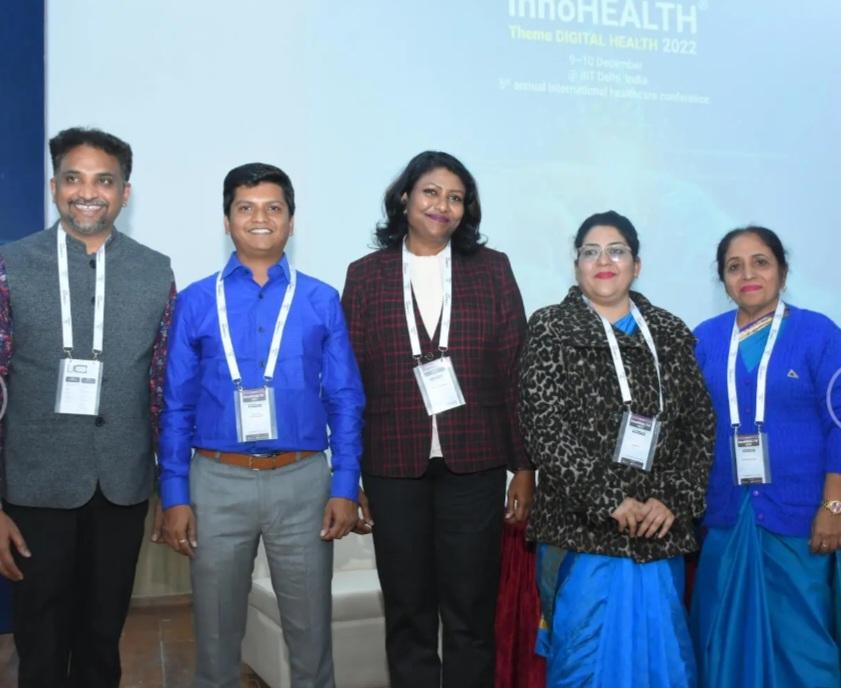 Dr. Gopichandran Lakshmanan, Associate Professor, College of Nursing, AIIMS was moderator for the session and the panelists were Mr. Devdatta Puntambekar, Founder & CEO, Sattvarise Technologies, Dr. (Prof) Raminder Kalra, Principal, Holy Family College of Nursing, Ms. Achala, Assistant Director, Directorate General of Health Services, Government of India and Dr. Lekha Vishwanath, Principal, Nursing College & Deputy Director, Nursing Service at Amrita Hospital, Faridabad. They talked about the Augmented Reality app for visualizing. XR(extended reality) is the sum of AR,VR(virtual reality) AND MR (mixed reality).
Innovative teaching method for medical education and hand on training with VR (for example – DEFTXR human anatomy) and MR will also help in better understanding digitally. The contribution of the nursing sector in the digital healthcare sector was also discussed. Nursing professionals should be trained on a regular basis for multidisciplinary projects to improve the healthcare sections especially the nursing sector. Some developments in Digi-health like HMIS, e- raktkosh etc. has contributed greatly in the nursing sector. HCW should collaborate with IT professionals to improve digital health at grass root level.
Session 8: Code of Medical Ethics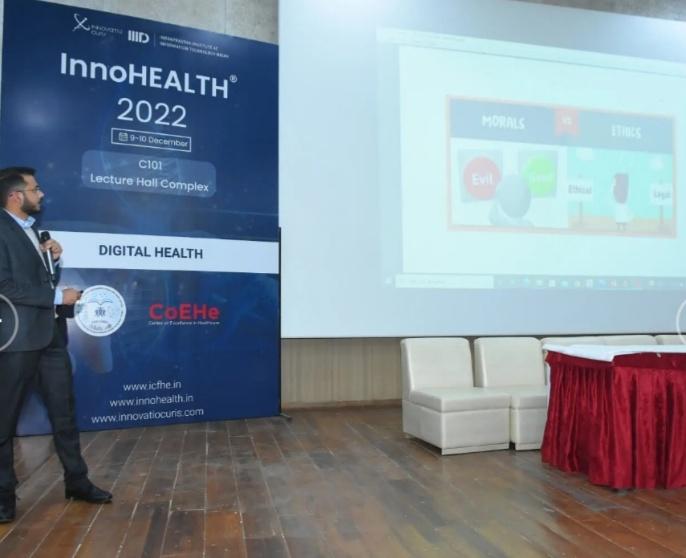 Dr. Hara Prasad Mishra, Physician, University of Delhi discussed the medical ethics which includes the moral principles that apply values and judgements to practice of medicine. He also talked about the major concerns of AI which includes evil AI, energy consumption, AI bias , security and Inequality.
Session 9: ALVL foundation IC Young Innovator's Award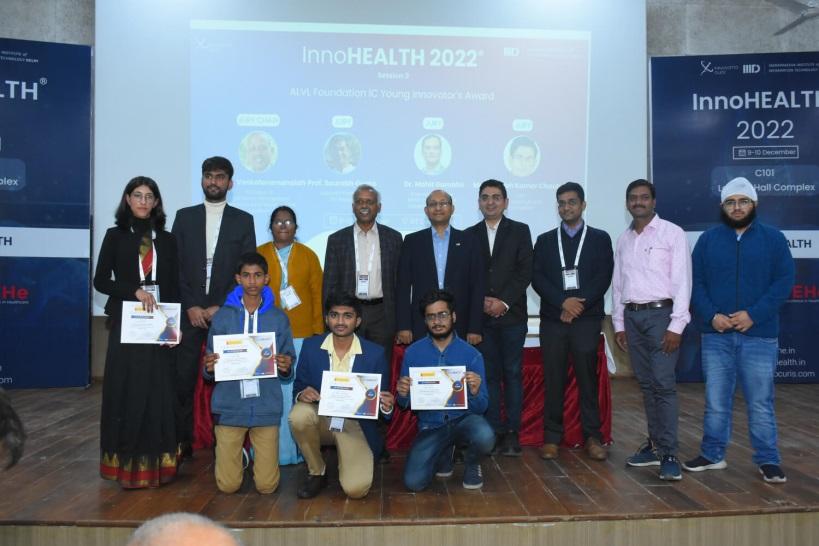 The last segment of the conference was the Young Innovators Award. The jury members included Prof.S. Venkataramanaiah , Prof. Saurabh Gupta,Dr. Mohit Gambhir and Mr. Saurabh kumar Chaubey. There were four teams 
Team 1: Parth Jamkhedkar– Micro ECG – A compact and portable ECG machine.
Team 2: Tarun Babu – Reduce fluorine levels in the drinking water through natural fluorine filter (water pot) and natural materials
Team 3: Animay Tiwari – IoT based device to Track leg motion activity of normal and orthotic person and suggest an exercise based on their Gait analysis
Team 4: Keshav Sharma – Prescribe diets for reducing the glycemic index and detect diabetic complication issues using machine learning and neural networks.
All the teams were really enthusiastic and innovative.The winner of the award was Team1 with Micro ECG, a portable and compact machine with easy access and monitoring.
Conclusion
The two-day conference came to an end with so many new issues and those that may affect healthcare, particularly in India, being raised by such inspirational, educational, and participatory sessions. Through the countless innovations that were put out, it also provided solutions to many current problems. The universal concern that most people had was the cost and accessibility of high-quality healthcare. Innovations cannot last for very long if they are not mass-marketable, easily used, and cost-effective. The opinions on how AI may save lives and the significance of comprehensive, affordable healthcare were of the utmost importance. In remote and urban locations with limited reach, IoT can connect to anybody, anytime, anyplace, and how AI aids in diagnosis and innovation. The session helped to get the importance of data collection, curation and privacy in digital healthcare.
With the developments taking place all around the world, the healthcare industry is seeing enormous prospects. Organizations from diverse sectors came out to offer their portfolio of services and products during innovation pitches from multinational and Indian enterprises. Dr. VK SINGH ended the conference with his remarkable word for the nursing sector with better wages as well as improved training programmes. Digital health tools have the vast potential to improve our ability to accurately diagnose and treat disease and to enhance the delivery of health care for the individual. He announced the InnoHEALTH2023 CONFERENCE on 13th and 14th October at DELHI on the topic CLINICAL VALIDATION.
---