When the word artificial intelligence (AI) is heard by many of us, we imagine robots doing our work, rendering us outdated. And, as AI-driven computers are programmed to make decisions with little human interference, some wonder if machines will soon be making the tough decisions that we now entrust our doctors with.
In the present scenario, artificial intelligence (AI) has become one of the most prevalent topics. A lot of research is going on to discover the various applications of AI in different sectors such as in healthcare, business, autonomous vehicles, robotics, technology, education, manufacturing and others. Among these wide spread domains the application of AI in the field of healthcare is of immense importance.
In healthcare artificial intelligence, Machine Learning(ML) and Natural Language Processing (NLP) are being used to create a Virtual Conversational AI platform, which assists anyone to be able to interact with doctors and have their queries answered unlike other search engines, which do not guarantee the authenticity of information.
During this difficult time of the Covid-19 pandemic, AI plays a role as never before in areas ranging from risk diagnosis to doubt-clarification and from the delivery of drug discovery services to addressing this outbreak. In India itself, there are many startups which are trying to align their understanding and research about artificial intelligence with the needs of the healthcare industry and how it can be helpful in dealing with these types of pandemic situations.
"Our Intelligence is what makes us human, and AI is an extension of tha Quality"
-Yann LeCun, Professor, New York University
There are a large number of AI organisations which are working in the domain of healthcare, this article is an attempt to introduce some of the top AI organizations working in healthcare. These organizations are graded on the basis of two criteria – the first being funding and the second being research published by these organizations.
Based on Funding, following are the top five AI startups in the healthcare sector in India-
SigTuple Technologies Private Limited– Founded in Bangalore in April 2015 by Mr Apurv Anand, Mr Rohit Kumar Pandey and Mr Tathagato Rai Dastidar, Sigtuple is working on data-driven, machine learning and cloud-based solutions to identify abnormalities and patterns in medical data for disease diagnosis.The organization is using AI to create hardware and software tools to digitize test results for hospitals and clinics for pathological analysis. Its AI-powered continuous learning platform, Manthana, enables five major capabilities for them – data management, observations, model development, continuous learning, and analysis / reporting.
SigTuple is on the list of top 5 funded AI organizations in healthcare as per the public data available. It has raised a total of $40.8 million funding over 5 rounds. They have recently(Apr 8, 2019) raised Series C funding to scale.
Qure.ai– In 2016, Qure.ai was founded by Mr Prashant Warier and Ms Pooja Rao as co-founders, based in Mumbai. As per our research,in the list of top 10 Healthcare startups in India Qure.ai has developed various products. The startup's head CT product (qER) is a triage aid designed to prioritize and notify critical head CT scans further to its chest X-ray automation and interpretation solution (qXR), that is an automated CE-certified chest X-ray interpretation device that checks for tuberculosis and other abnormalities.
Qure.ai has raised $16 million in its 1st round of funding as of Feb 26, 2020 led by Sequoia India and was supported by MassMutual Ventures Southeast Asia.
Tricog Healthcare Services Private Limited- Tricog, a healthcare analytics organizations based in Bengaluru, founded in 2015 by Dr Charit Bhograj, Dr Zainul Charbiwala, Dr Udayan Dasgupta, and Mr Abhinav Gujjar is one of Healthcare's top AI organizations. For easier diagnosis and treatment of heart attacks, Tricog has revolutionized not only the way ECG(Electrocardiogram) analysis is performed in India but also in remote healthcare centers throughout India.For heart patients, technology , artificial intelligence and a 24-hour medical team, Tricog provides the most reliable and quickest real-time diagnosis. Tricog uses multiple AI algorithms to control each ECG received, after which an expert medical team assesses the absolutism of each ECG diagnosis, who are directly available around the clock at the Tricog hub in central location.
Tricog is in the list of top 5 funded organizations of AI in healthcare . Tricog Health has raised over $15 million in funding over 5 rounds. Their latest funding was a Series B funding raised on March 3, 2020.
Oncostem Diagnostics– Established in Bangalore in 2011 by Dr Manjiri Bakre. Cancer is a complex disease and Oncostem is designing measures to help detect patterns in the risk of cancer recurrence. An awareness of these trends means that patients receive the most effective targeted interventions and treatments for their disease. OncoStem seeks to create innovative tests designed to personalize cancer patients' care.Their flagship product CanAssist Breast was launched for breast cancer CanAssist Breast digitizes historical patient medical records, feeds into an AI-algorithm that then analyzes the data to generate actionable knowledge for doctors.The study reads and analyzes tissue abnormality and identifies cancer-growing tumors-which benefits from technologies that may not be comparable to human experience. They are currently working on similar tests for other types of cancer including oral and ovaries cancer. Development to identify and describe novel drug targets for breast and oral cancer is under way.
OncoStem Diagnostics raised over 2 rounds of funding bringing the total $7M. Their most recent funding was received from a Series A round on Sep 6, 2017.

Niramai Health Analytix Private Limited– Niramai was founded by Geetha Manjunath and Nidhi Mathur in July 2016, Bangalore. Niramai is the pioneer of a patented technology called Thermalytix which is a novel fusion of AI and thermography for Breast Cancer Screening.
Niramai's early stage breast cancer screening solution is a non-contact, non-invasive, portable, safe, automated solution that works for women of all ages. The novel AI and ML algorithms for the analysis of thermal images have resulted in 9 granted US patents and many more patent applications.
Niramai Health Analytix has raised a total of $6.1 million in funding over 3 rounds. Their latest funding was raised on Feb 25, 2019 from a Series A round.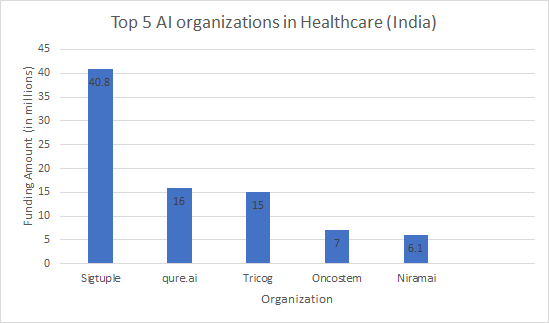 These organizations, as stated earlier, were also graded according to their research. Based on research, the following are the top five AI organizations in the healthcare field in India-
Qure.ai – Qure.ai basically provides solutions to physicians which are related to routine diagnosis and treatment . In addition to their deep learning solutions, they transcend the field of research in their respective area of interest.
Their research component is very vast and impressive . They have provided research articles related to distinct applications of AI in healthcare. Their latest publications consist of study about deep learning , computer aided radiography reading for tuberculosis.
Sigtuple– It is one of the top most AI organizations in healthcare when it comes to research. They are utilizing artificial intelligence for providing solutions to its consumers for medical diagnosis and screening purposes.
The research work done by sigtuple consists of their study about the solutions they provide and in addition to this , they research for examining the performance of AI provided image based systems which are used for analysis of peripheral blood smears.
Predible Health– Predible health is a Bangalore based organization which was founded by Mr Abhijith Chunduru and Mr Suthirth Vaidya in 2016. It basically utilizes AI for radiology for diagnosis of liver and lung cancers.The organization had done a major part of its research upon the application of deep learning components of AI for radiological aspects such as detection of lung cancer, radiology level malignancy detection on chest computerized tomography scans.
Their research plays a major role in the evolution of their organization and to emerge new ideas for their futuristic projects.
Niramai Health Analytix Private Limited– Niramai provides software that helps in detection of breast cancer in its earlier stage. The research component of Niramai is manifold. Initially their research had helped them to come up with the idea of development of such a unique software for detection of breast cancer, which is not only providing the early detection of cancer but is also economical and is comparatively easy to use.
They have done extensive research in the field of physiological and thermal changes associated with human tissues and with the consistency in their research work , they are able to continuously evolve their solutions for the healthcare industry.
CARING– CARING refers to the Centre for Advanced Research in Imaging, Neuroscience and Genomics. It is the recent wing of Mahajan Imaging which carries out research & development.CARING is focused on performing cutting-edge scientific and clinical research and helping radiology and genomics organizations develop world-class clinically relevant products. It was started in early 2018 , founded by Dr Vidur Mahajan and is led by Dr Harsh Mahajan.
CARING is evolving as one of the top most AI organizations in healthcare by research point of view. They are carrying out extensive research in artificial intelligence based imaging, neuroscience and genomics. They are also involved in developing collaborative research projects.
According to our research and studies above organizations are the top organizations as per the respective criterias. There is much more going on in the field of AI , moreover after the spread of pandemic Covid-19 in India a lot of organizations including hospitals such as Apollo Hospital , Sawai Man Singh Hospital are also implementing AI in their organizations . The future of AI in India holds a lot and thus this competition among various organizations to maintain their position , or even to improve the same is going to be extremely challenging .
Though this article is the best of our efforts to present the actual scenario but if there are any other views or suggestions, let us know in the comment section below.
Also let us know:
What according to you does the future of AI in Indian healthcare system look like?
What possible efforts could these organizations make , in order to sustain their position in such a competitive environment?
Composed by Kritika Arora & Varsha Sharma