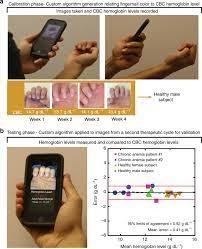 Sanguina, an Atlanta-based health technology developer has recently launched a smartphone application named 'ANEMOCHECK'for the non-invasive detection of anaemia by using pictures of fingernails  of a person to detect an iron deficiency in him or her. Instead of a blood test, simply the picture of one's fingernails can determine whether the level of haemoglobin in their blood is low or not. 
Presently all other anaemia detection tools require external equipment and are invasive in approach. Researchers studied fingernail photos and correlated the color of the fingernail beds with haemoglobin levels measured by conducting complete blood count in 337 people which included some healthy people and some diagnosed with different types of anaemia. The algorithm to convert fingernail colour to blood haemoglobin level was developed by using the data from 237 of these subjects and then tested on 100. The researchers could display that a single smartphone image can measure haemoglobin levels with an accuracy of 2.4 grams/decilitre with sensitivity of upto 97% it also showed that personalised calibration which was done on four patients over a period of several weeks could improve the accuracy to 0.92 grams/decilitre.
The device could prove to be very beneficial for various sections of people like pregnant women, women with abnormal menstrual bleeding or athletes and people with bleeding disorders as this can be used by anyone at any time. Patients suffering from chronic anaemia can facilitate their self-management by monitoring their disease and identifying the times when they need to adjust their therapies or receive transfusions. This may reduce the complications associated with patients having late or early transfusions.
SOURCE: WWW.WEBMD.COM