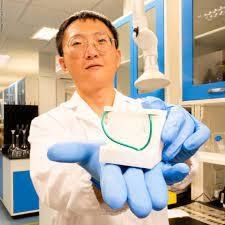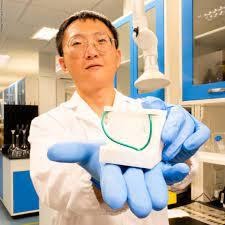 A team from Nanyang Technological University (NTU), Singapore has successfully developed a portable device which produces high resolution 3D images of human skin within 10 minutes.  The device presses a specially devised film onto the person's skin to get an imprint of upto 5 by 5 centimetres, which later is subjected to electric current in order to produce the 3D image. A biodegradable bioplastic  known as polylactic acid (PLA) has been used by the team to design and 3D print a prototype of their device which is battery operated and measures 7 by 10cm weighing only 100 grams. PEDOT PSS, a polymer is the main component used in the device for its electrical conductivity which reproduced skin patterns on gold-coated film.
To use it, a person pushes a button to press the gold-coated film onto the subject's skin to get an imprint. This causes sebum which gets transferred onto the film, creating an imprint of the skin surface. Then the skin's imprint is transferred to the portable device where a set of electrodes is immersed in a solution. Then another push of the button is made to trigger a flow of electric charge causing PEDOT PSS to be deposited on the surfaces of the gold-coated film in areas that are not covered with sebum. This finally produces a high-resolution 3Dmap of the skin which also reflects the ridges and grooves of the skin upto 2mm.
This portable skin mapping device can also be used to assess the severity of skin conditions such as eczema and psoriasis and would prove very useful to clinicians as presently most of the equipments being used give only 2D images of the skin surface.
Low production cost, non-invasive approach, simpilicity of operation and low weight of about 100 grams is the USP of this device as against similar products in the market which cost thousands of dollars and weigh upto 30 kilograms. The device could be used to enhance the current methods of diagnosing and treating skin diseases and also be a useful method to map skin texture and wound healing in a 3Dmanner as presently there is no tool that maps the depth and length of skin ridges. Owing to its small size, weight and use of a 1.5V dry battery, the portable device can become a tool of choice in giving point of care assessment in clinical settings.
The researchers used pig skin as a model to demonstrate that the technology was able to map different kinds of wounds such as abrasions, lacerations, incisions and punctures and also showed that even complex wrinkles on the back of a human hand could be captured on the film. The device may also help in fingerprint identification, commonly performed in forensic analysis. To further validate the efficacy of the device, the team is likely to carry out clinical trials in second half of the year. The study is published in the scientific journal Analytica Chimica Acta.
SOURCE: WWW.INSHORTS.IN