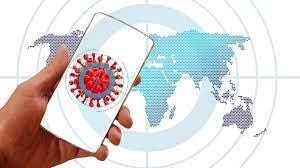 To contain positive covid cases efficiently it is important to have effective home management of such cases. In light of this viewpoint, IIT Mandi researchers have developed first- of- its- kind, an AI-driven home quarantine management application named "lakshmanarekha" for covid patients.
The app uses a combination of geofencing, biometric verification and artificial intelligence in order to continuously monitor and accurately detect the identity of a home quarantined person. The uniqueness of this app lies in the fact that it can also serve as an unbreachable mobile phone platform for non-covid mobile users and situations like national emergency or curfew for identifying lawbreakers and violators.  Presently the pilot version of the app has been developed and tested over small datasets. The results obtained so far are very good and now the team is working to add more scalability, functionality and usability of the app to make it ready for deployment.
The quarantine management mobile applications which are presently being used enforce the self-isolated individuals to share their instantaneous position routinely via geofencing technology or are required to upload their face selfie on hourly basis or ten times a day. The drawback here is that these apps fail to ensure the identity of the user throughout the time because individuals can leave their mobile devices in isolation zones and move in or out causing disobedience of the self-isolation rules. Similarly an hourly reporting of selfie is also not full proof of self-isolation as the user can try to fool the system by simply using a photo containing its registered face. Lakshmanarekha has been developed to overcome the shortcomings of the existing mobile applications in this area of quarantine by matching the quarantine location of the individual with the location from where they have uploaded their biometric data and also by using AI, the application continuously computes an authentication score which can measure how certain it is that the quarantines user is also the one using the mobile device. If any action indicates that the user identity has been changed then the application detects it and reports it to the authorities for necessary action.
It is very important to track the movements of every individual who is infected with COVID-19 in order to control the rapid spread of the pandemic. The research work has been published in the IEEE Consumer Electronics Magazine.
SOURCE: WWW.INDIATODAY.IN