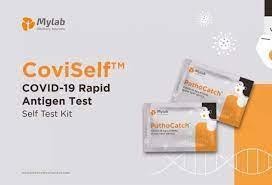 In India today a person going in for RT-PCR test for covid-19 can witness the rush at laboratories waiting for their turn to come which in turn can be very hazardous as the chances of spreading or contacting coronavirus increases many folds. To overcome this problem a very timely and feasible solution has been given by Mylab Discovery Solutions which is a Pune-based firm in the form of a self -use Rapid Antigen Test for COVID-19 named 'COVISELF' that can be carried out at home. 
Very recently ICMR has given approval to Coviself which is a self-use test that can be used by symptomatic individuals and immediate contacts of cases which are confirmed as per the guidelines of ICMR. This makes CoviSelf India's first covid-19 home test kit. Each CoviSelf kit will have all testing materials, a leaflet of instructions and a biohazard bag for safe disposal of the kit after it has been used for testing. Nasal swab will be used to conduct the test instead of the nasopharyngeal swab which is very uncomfortable to the person getting tested. The results are given in 15 minutes and the test is priced at an affordable price of INR 250 per test.
The USP of this product is that it comes at an affordable price which is a fraction of the cost of such self-testing kits in the US and this easy-to-use test is combined with Mylab's AI powered mobile application which allows the user to know his/her positive covid status. Also each pack has a unique QR code which must be entered along with the test outcome to get a report on the mobile application. On top of that the result is directly submitted to ICMR for traceability and what to do next in either case of result.
The current capacity of Mylabs is to produce 70 lac test kits per week but it will increase it to 1 crore test kits by early June making it available to a large number of people soon. Mylabs is also the company which gave India its first RT-PCR test kit in 2020 which is now commonly used for covid-19 testing pan-India. Coviself has been launched to overcome hurdles like eliminating the need of a healthcare professional to carry out the sample collection, ease pressures on the overburdened testing laboratories and reducing the delays in the test results which at present takes more than 72 hours in many parts of the country. The company hopes to reach virtually to the doorsteps of every Indian so that India can effectively fight the second wave of covid and save many lives.
SOURCE: THE INDIAN EXPRESS