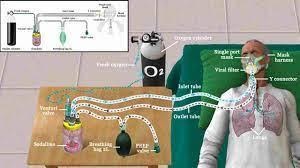 It is a known fact now that oxygen is in short supply across India and is of pivotal importance in the fight against covid-19. Taking a note of this crisis, a team of alumni and researchers at the Indian Institute of Technology, Bombay, India have made a breathing device or a mask which can reduce oxygen wastage when a covid positive patient is put on assisted breathing support like ventilators
The device named 'reBreather' is a semi-closed circular breathing system which would allow patients to breathe in unused exhaled oxygen that has been filtered to remove carbon-dioxide via an inlet section which pumps in fresh oxygen from an oxygen cylinder or a centralised oxygen system in hospitals. The team has used an existing technology of reusing exhaled oxygen which is most commonly used in mountaineering and diving systems to cut down on the wastage of oxygen. The push factor to conduct the study is that covid patients with severe difficulty in breathing are put on ventilators which can supply oxygen via a combination of nasal cannula and mask at a flow rate of upto 50 litres per minute. But our lungs can only absorb one litre of oxygen in a minute implying that the rest of the 49 litres is wasted or breathed out.
At the input, an adjustable venture valve is located which allows external air to be automatically pulled in based on the desired oxygen flow rate. A one port mask is attached to the patient and exhaled air is fed to a container that has medical-grade soda lime which selectively absorbs carbon-dioxide from the exhaled air and allows the rest of the air to pass through the inlet section of the system. The soda lime changes color once it has finished its capacity to absorb carbon-dioxide and then needs to be replaced. So far the testing of the system has been done on healthy volunteers and team plans to start the clinical trials soon. The cost of a single unit of reBreather was around INR 10,000. Most of the body of the system is made of plastic and can be sanitised and reused.  
As per the team this recirculation of oxygen can reduce the number of oxygen cylinders required by the patient from 9 to almost 1 per day. This calculation is based on the assumption that one cylinder holds 7800 litres of pure oxygen. The prototype has been designed by the staff, students and alumni affiliated with Tata Centre for Technology and Design, Department of Chemical Engineering and a start-up by the alumni 'Nex Robotics'. So if such efficient systems are developed and used it would prove to be a very promising step in conserving the use of supplemental oxygen which has become a very precious resource.
SOURCE: HINDUSTAN TIMES