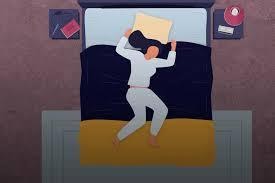 Massachusetts Institute of Technology (MIT) has made another innovative device known as the 'Bodycompass' which is a wireless device that can monitor sleep postures and track sleep by using radio frequencies.
These radio signals are reflected from a small device that is mounted on the bedroom wall. The USP of this device is that it can identify sleep postures and measure sleep without attaching any sensors or cameras to the body. It is important to track sleep postures in certain situations where people are suffering  medical conditions like parkinson's disease or epilepsy.
Studies have shown that sleeping on the stomach increases the risk of sudden death in Epileptic patients. Similarly patients suffering from Parkinson's Disease slowly lose their ability to turn over in the bed. Thus body monitoring becomes important and any such device could help patients to assess their risk and when an intervention system is combined with it, patients can be saved from sudden death. 
In the study 26 healthy people sleeping in their own bedrooms were observed for over 200 hours of sleep data to test the accuracy of Bodycompass. Initially the subjects were made to wear two accelerometers taped to their stomach and chest,  also 94% of the time the device predicted the correct body posture. This device can also monitor sleep patterns in infants. Bodycompass could also aid in the treatment of patients who are more likely to encounter bedsores and sleep apnea since both these conditions can be managed better by efficiently handling the body postures of patients.
User privacy has been taken care of when a person uses bodycompass as the device only records information necessary for detection of sleeping posture and breathing patterns. There is no discomfort to the user as no sensor or camera is attached to the body. The device analyses, collects and sends the reflected radio signals from the objects in the room including the human body wherein the researchers map the paths of the reflected signals to determine the posture of the body. In the future the team of MIT researchers intend to make an update in the device as per which they would be able to alert the user of bodycompass to change their body posture if required. They also intend to integrate the device with bed mattresses that can slowly turn a patient to avoid dangerous sleep positions.
SOURCE: www.thehindu.com