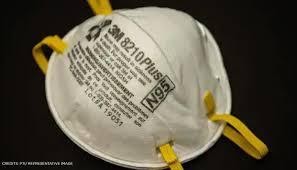 Credit for the creation of super-activated carbon N-95 masks based on odourless technology goes to IIT Kanpur alumni Sandeep Patil, Ankit Shukla, Nitin Charate  and Mahesh Kumar.
These masks are first of its kind to be made in India as these masks will provide protection not only against coronavirus infection and external pollution but also it's users' from their own respiratory odour and bacteria.
The odourless technology here implies that the mask absorbs odour-producing particles. Carbon is a harmful chemical for the body but when it is charged and prepared, it's property changes and it becomes harmless to the body. The carbon particles used in the mask absorb in odorous particles, thus giving a free and fresh feel to its user while wearing the mask. The mask is also coated on the outside with treated nanoparticles. These masks will be produced by e-spin, a start-up which is set up at the incubation centre at IIT Kanpur. The masks have passed the testing phase and are now ready to be produced in larger quantities.
SOURCE: www.republicworld.com