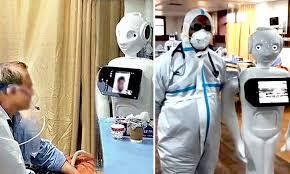 Invento Robotics, Bengaluru-based start-up has designed and developed Mitra, the robot which has been installed at the entrance of Yatharth Hospital in Noida. The robot helps the Covid-19 patients speak to their near and dear ones, their families and friends alongwith counselling the patients to smoothly overcome the tough times of covid by keeping their anxiety levels under control. The robot also aids in the initial process of checking the symptoms of incoming patients. It asks the patients about their symptoms and screens their temperature. When the relevant statistics are normal then the robot prints an entry pass for the hospital visitor mentioning the result of screening, name and picture of the visitor. 
The robot keeps patrolling the wards throughout the day. Since most of the covid hospitals don't allow phones inside the ICU, a friend like Mitra is surely to come in handy as it can also make video calls and connect patients with their families. A tablet is attached to its chest which allows the patients to see their relatives and medical staff who cannot access the covid wards.
There is facial recognition technology equipped in it that helps the user to recall the ones with whom they had interacted earlier. Psychiatric consultations too happen via the screen on the robot through which the doctor interacts with the patients replying to all their queries. Mitra is also being used to carry out remote consultations with specialists at the hospital to reduce the risk of contracting the infection. 
The hospital has procured two Mitra robots at a cost of INR 10 lacs each, one is installed at Yatharth Hospital, Noida and the other one is installed at the hospital's non-covid branches in sector 110, Noida and sector Omicron 1, Greater Noida to screen patients for influenza like illnesses wherein it screens nearly 500 OPD patients and relatives of IPD patients on a daily basis.